The Complete Bathroom Renovation Guide: Bathtubs
Previous post: The Complete Bathroom Renovation Guide: Vanity Cabinets
Every bathroom has its own charm and beauty. If you're looking for a prominent feature that hits somebody in the face as soon as they enter your bathroom, consider getting a bathtub. When remodelling, a change in the bathtub is also one of the easiest ways to alter the aesthetics and dynamic of your bathroom. There are many different types of bathtubs available in the market and the possibility of installing one largely depends on the size and orientation of your bathroom. After reading this, you'll come to understand the various bathtub personalities better.
Alcove Tub
This is a traditional skirted tub within an alcove (a recess in the wall of a room or garden). It is typically rectangular in shape and is installed adjacent to three walls.
Pros: - Easy and cheap to buy and install
Cons: - Designs and styles are shallow - Limited finishes - On the small side
Credits: ths.gardenweb.com
Drop-In / Platform Tub
A drop-in tub sits within a built-up deck structure with its rim at the same level as the top of the deck (similar to a self-rimming sink). It is one of the most popular bathtub designs adorning modern bathrooms.
Pros: - Can easily blend with the existing decor of the bathroom - Available in a variety of designs and shapes so you have more choices - Can be more space efficient because they are built into the walls of your bathroom
Cons: - More difficult to manoeuvre in and out of the tub, especially if the tub has any significant depth - Difficult to replace or move because it's a built-in bathroom fixture - Might be harder to clean if used as shower and bathtub combination
Credits: de-lune.com
Freestanding Tub
A freestanding tub sits by itself on the bathroom floor with no adjacent support structure. Elements such as claw foots and slippers are sometimes used to beautify the overall design, especially if the tub is standing on "legs".
Pros: - Beautiful and very chic - Can become a focal point of your bathroom - No limit to their variability, they can fit anywhere
Cons: - Have to ensure it is located near the delivery and drain plumbing - Pipes are exposed - They're big and sometimes have big costs - They can be extremely heavy
Credits: signaturehardware.com
Spa Tub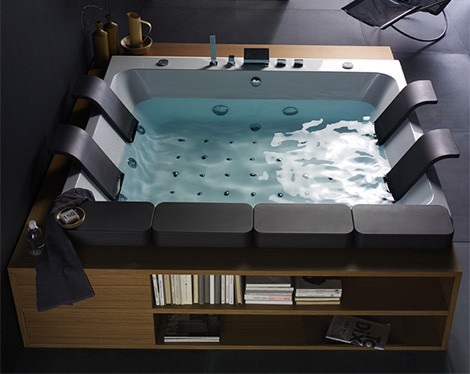 These kinds of tubs are designed for a deep soak.
Pros: - Many different kinds with varying sizes and functions: Air, jetted, whirlpool, jacuzzi, etc. - You can enjoy a more relaxing bath because of the massage options
Cons: - Can be costly to install - Maintenance is more cumbersome - Can be noisy because of the running motor and pump
Credits: trendir.com
Corner Tub
This is often a hybrid of several tubs and can take the form of many styles.
Pros: - Available in various styles and colours - Facilitates a deeper, more thorough soak - Offers deeper volume compared to traditional bathtubs - Provides the bath facility within the triangular corner area, therefore freeing up central space - Unique aesthetic to the bathroom - Romantic because many corner tubs come in designs meant for two
Cons: - Great depth means cleaning is slightly inconvenient - They are generally quite large and bulky and require sufficient space for installation even though they fit in a corner - Tough to incorporate built-in shower
Credits: de-lune.com
Next post: The Complete Bathroom Renovation Guide: Final
---
Are you curious about the progress of a certain BTO? Anxious to find out what yours looks like right now? You can try to locate yours in this list.
Meet Interior Designers. Get Quotes.
Get in touch with our listed renovation companies. They will provide you with a free non-obligatory estimate for any of the Renovation Packages included in their services.