15 Chic Home Office + Bedroom Combos We're Copying for Ourselves
With the rise of telecommuting, having a home office is becoming more of a necessity. Don't have an extra room to spare? Convert a part of your bedroom into a workspace. Visually, you'll want to make sure things don't look too disjointed. Also pay attention to function—a home office and bedroom combo needs to be both conducive for working and relaxing. We have several ideas:
1. Go with a Murphy
A Murphy bed (fold-up bed) is always a good idea for a multipurpose bedroom. You get to fold it up when bedtime's over so there's no distraction during working hours. Love that the desk's on wheels, allowing you to move your workspace around—definitely useful for a change of scenery.
Design: Hello Embryo

2. Side arrangement
The 'workstation by the side' look is an obvious arrangement when it comes to incorporating the home office in the bedroom. But the extra partition keeps a clear distinction between workspace and bed. It's not at a too great a height either so you can still take advantage of the daylight from the windows.
Design: Habit
3. Bedside extension
Visual consistency is pivotal if you are looking to pair your home office with the bedroom. Clad in the same woodgrain laminates, this wall-hung workspace extends out as part of the built-in nightstand.
Design:
Happe Design Atelier
4. Glass partition
If just by looking at the bed will lead to a hit on your productivity levels, then go with a full divider to segregate your home office from the sleeping area. A glass partition is less visually bulky and still allows light to penetrate through.
Design:
Fifth Avenue Interior
5. Step up
This petite apartment packs everything in a single space, which meant that the bedroom and home office are located in the same area as the living room, dining room and walk-in closet. The staggered arrangement here is done to create various zones, with the workstation set on wheels so it can be moved out of the space when necessary.
Design: Metre Architects
6. Heightened alert
In this bedroom, the home office is positioned atop a platform. The different levels provides this sense of segregation without being too visually invasive. The bedroom still feels open and airy, yet the clear demarcation means you know where work ends and relaxation begins.
Design: Editor Interior

7. Working by the window
The home office section in this bedroom is segmented into three functional parts by the window: storage, seating (perfect for break times!) and study desk. The colour scheme is kept neutral throughout so nothing appears out of place.
Design:
The Interior Lab
8. Bench in
A workstation is incorporated into the bedroom by integrating a bench at the end of the bed and a floating desk by the wall. The setup takes up minimal room and the minimalist design feels cohesive.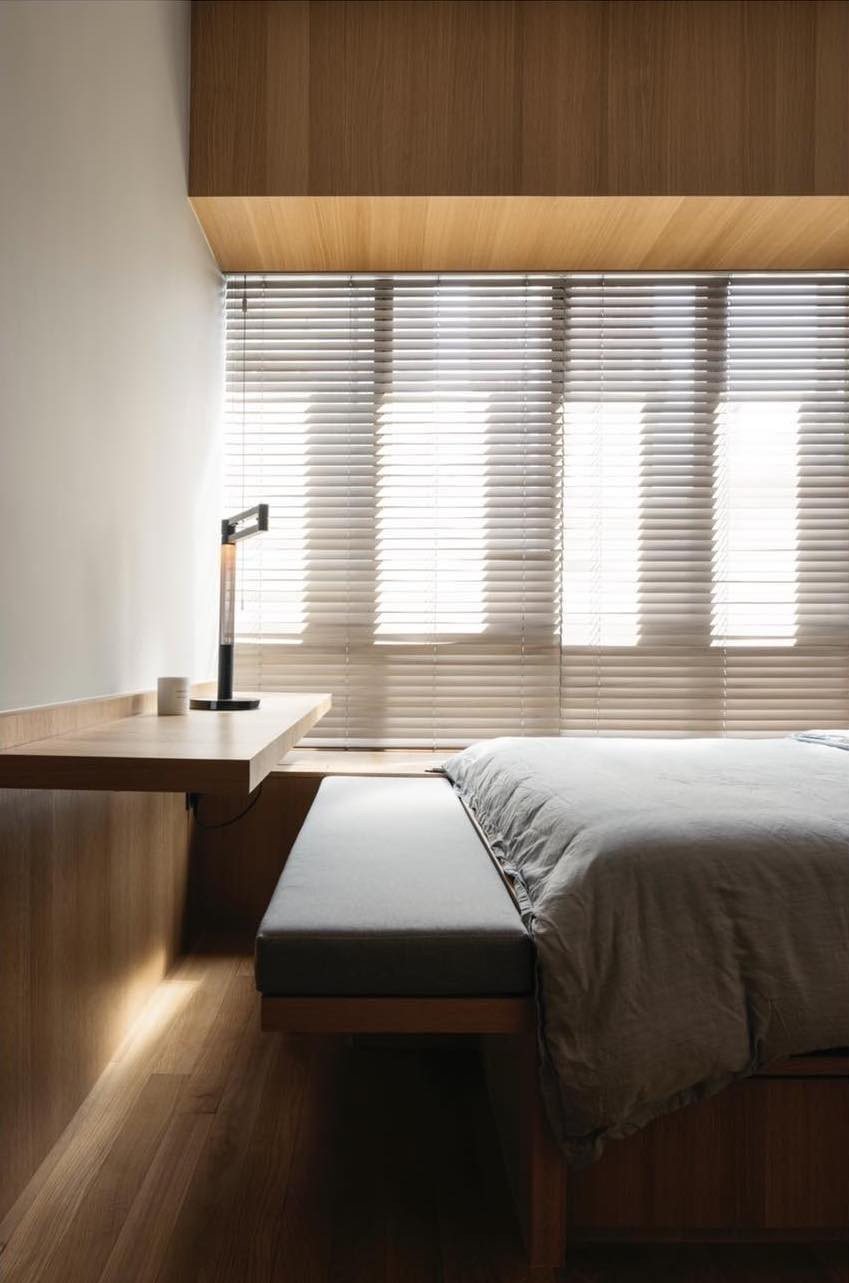 Design:
Monocot
9. Floored by this home office
For those in the habit of sitting on the floor while working, this chic home office configuration located on the same level as the platform bed may be up your alley. Need a back rest? Consider getting in a Japanese style zaisu floor chair.
Design:
Mr Shopper Design Studio
10. Divide and conquer
Part of this full-height, built-in cupboard by the foot of the bed was set aside as a home office, with integrated lights underneath the storage to boost productivity. It takes away distractions for both sides of the room and creates healthy boundaries—you don't think about work while you are ready to go bed and the bed isn't going to tempt you into taking a snooze during work hours.
Design:
Earth Interior Design
11. Curtain call
Another divider option? A curtain. Here, it can be drawn to conceal the workstation in the bedroom when necessary. Not only does it minimise disturbance, it can also help to hide away home office clutter—laptops, cables, documents can all pile up without you even trying.
Design:
Produce

12. Small space solution
Small bedroom? Take a leaf from this petite bedroom, where one of worktable legs is couched on top of the bed frame to save up on floor estate. A similar metallic finishing with the under-bed storage handles draws visual cohesion.
Design:
Third Avenue Studio
13. Comfort from the bed
Working from the bed may not be for everybody, but if you are the sort that do that (and still manages to stay productive), an over the bed table may be your answer. Make sure your back's fully supported with the proper cushions though and consider standing up and stretching every now and then.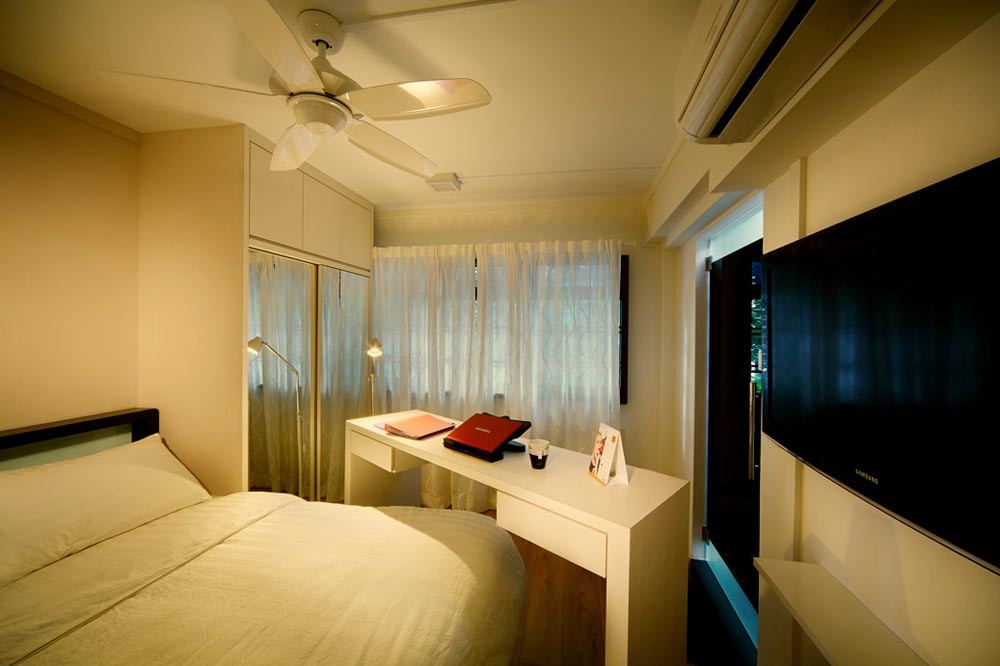 Design:
Dots 'n' Tots Interior Design
14. Classic style
White and wood blend in neutral harmony in this home office and bedroom combo. The L-shaped design offers plenty of table space, while a small cupboard by the side provides storage for home office essentials.
Design:
Divine & Glitz
15. Window of opportunity
Instead of going for a full bay window seat, part of it was set at table top height to serve as a workstation. Not having storage underneath provides legroom for sitting more comfortably.
Design:
Regiis Design
Meet Interior Designers. Get Quotes.
Get in touch with our listed renovation companies. They will provide you with a free non-obligatory estimate for any of the Renovation Packages included in their services.