7 Cat- and Dog-Friendly Built-in Features For Your Furry Friends to Feel at Home
Turns out, our pets are the ones that really run the household. From dog beds to cat ramps, these practical yet stylish built-ins in these Singapore apartments not only considered the needs of their furry masters but also showed who's the real boss at home.
1. Pet Flaps and Pet Doors
No one likes their movement restricted. Include pet flaps and doors that will give them the freedom and independence to explore the different parts of your home.
A dog flap was built into this customised shelving for this little cutie to move in and out of the bedroom.
Design:
The Makers Design Studio
A flap was built into the concealed doorway so that the cat could come and go as he pleases. When closed, the petite door is perfectly aligned with the rest of the surface.
Design:
Key Concept

2. Cat Ladders
Keep your cats indoors? You'll want plenty of room for them to climb, jump and explore. Intentionally build cat ladders, but incorporate them into your home's interior design e.g. use the same colour scheme, so they can blend in without being a blot on your interior design.
Customised cat climbing structures disguised as shelves with a scratching post at the end were built on the walls in the open living room for feline to work out while its human servants watch telly.
Design:
Mr Shopper Studio
Cat stairs leading into different areas of the home was cleverly concealed behind the TV feature wall.
Design:
Linear Space Concepts
If you minus the cats, you couldn't tell this avant-garde TV unit was designed for their climbing activities (plus ample storage!), could you?
Design:
PRODUCE
3. Cat Scratching Posts
Hoping to save your furniture and doors from the wrath of your kitty's claws? Definitely get them a scratching post so your felines can scratch to their heart's content.
Integrate the cat scratcher with the bathroom pipes—definitely a cheaper option than boxing up them up.
Design:
DistinctIdentity
The scratching post was positioned to distract the eye from the very distracting bomb shelter's ventilation hole.
Design:
The Association
4. Built-in Dog Beds and Kennels
Whether it's for lounging or for sleeping, consider making things extra comfy for your canine pals by giving them an area they can retreat to and call their own.
This doggy kennel was carved out from all that extra space under the stairs, which would otherwise have gone under-used.
Design:
I Interior
Fluffy isn't allowed on the bed, but he gets to be close by thanks to the dog bed that was built into the side of the vanity table/work desk.
Design:
Versaform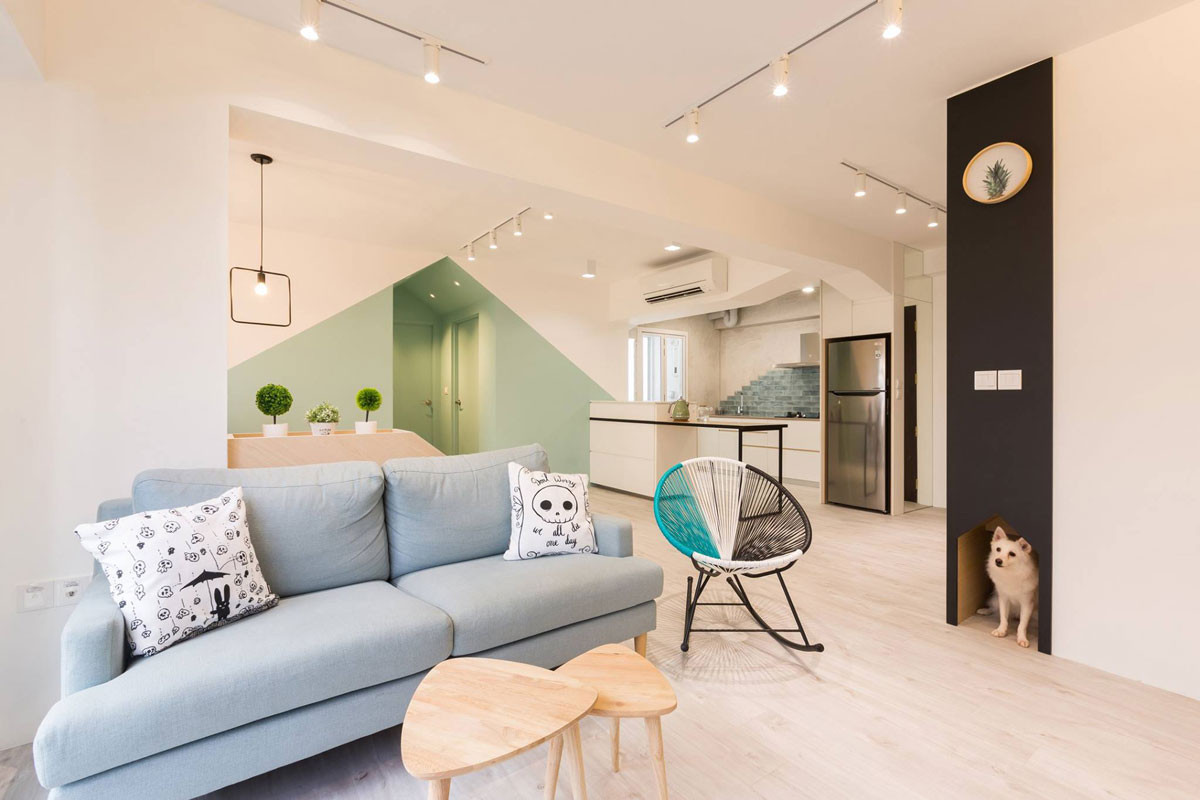 Part of a strip of wall in the living room was recessed for a dog den. The juxtaposition of black and wood creates a stylish statement. Design:
ROOOT Studio

5. Dog Washing Stations
Don't want to have to make a mess of your own bathroom every time you give your doggo a bath? Do up a dog washing station that can help contain all the splash and mess.
Be kind to your back and prevent your dog from escaping while you bathe them with a waist-height dog washing station that comes with a glass screen. This design is suitable for smaller dogs.
Design:
Happe Design Atelier
Have a large pup? Set your dog washing station on the floor. The dog washing station in the service yard is great for washing off your dog's muddy paws before they get them all over your flooring.
Design:
Three-D Conceptwerke
6. Concealed Kitty's Litter Box
We may love our cats, but nobody said anything about having to like their litter box. These solutions should help you keep this eyesore out of sight.
The entrance into the cat's litter box is disguised by an adorable feline cutout. A little pull-out tray below makes for easy disposal.
Design:
Mr Shopper Studio
Kitty's litter box is purr-fectly concealed behind the drawers of this bathroom vanity, where a cat door was added for Tibbles' easy access.
Design:
UNO Interior
7. Cat Cubby Holes
Cats like to cosy up in small and dark nooks and crannies, so include comfortable cosy corners in your interior design for them to curl up in. This will also prevent them from finding hazardous areas of the home to rest in.
Cat-sized holes were made on the TV console and dining bench to house spaces for cat naps.
Design:
Linear Space Concepts
The built-in storage piece by the foyer of this walk-up apartment features a cosy corner made just for puss.
Design:
UNO Interior

Meet Interior Designers. Get Quotes.
Get in touch with our listed renovation companies. They will provide you with a free non-obligatory estimate for any of the Renovation Packages included in their services.