Beautifully Styled Mini Home Bars that are Worth Throwing a Party For!
Instead of hanging out at the hottest new lounge for a night of cocktails and conversation, do you prefer to invite friends over to your home?
If you do, I would strongly recommend that you consider setting up a mini home bar. This is because at-home entertainment has never been cheaper and making great drinks for your friends at the comfort of your home is both fun and entertaining! Furthermore, a stylish mini home bar will definitely be a conversation piece!
Tip: A mini home bar can also double up as a beverage or a coffee bar!
Recommended Places for Mini Home Bars
Deciding where to build your mini home bar can be quite a challenge, especially when your apartment is very small. In fact, the common placement for the mini home bar includes the kitchen, dining room, living room and even the balcony! Nevertheless, with the help of the right home renovation professional, a mini home bar is not expensive or hard to build—all you need is a small silver of space to begin!
Without further ado, lets check out these beautifully styled mini home bars that are worth throwing a party for!
1. Mobile Bar Cart
A mini home bar need not be sophisticated, especially if you only have a handful selection of liquor and some crystal glassware. In fact, your mini home bar can be as simple as a mobile bar cart, which makes a great dedicated area for mixing a drink.
Tip: Having a mobile bar cart is practically useful when your party is in full swing, with your guests scattered in every corner of your apartment!
Image from Elle Decoration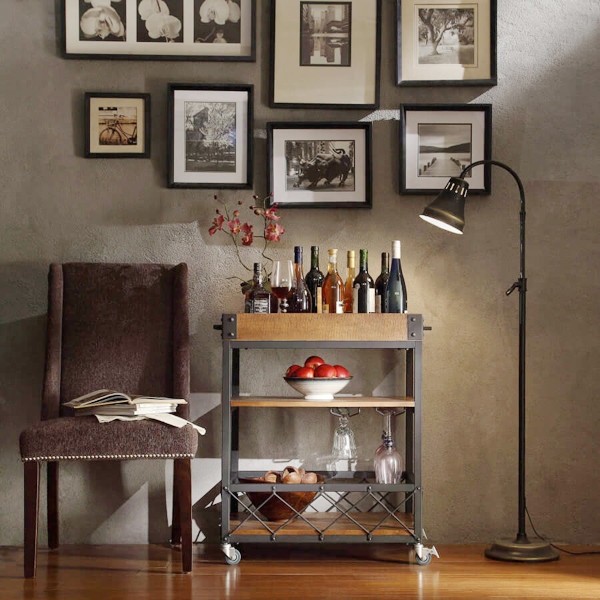 Image from Gentlemansgazette
Image from Housebeautiful
Image from sohautestyle
Image from camillestyles
---
2. Dry Bar However, if your collection of liquor is extensive and requires electrical appliances such as a refrigerator and wine cooler, then the selected location must have electrical points. Furthermore, a complete mini home bar should include an eat-in counter for snacks, with accompanying bar stools too!
Tip: The average dimension of the smaller wine cooler is approximately 43 cm in width and 48 cm in depth and costs approximately $350.
Image from Homestratosphere
Image from euamoarquitetura
Image from amymeierdesign
Image from simsenhora
Image from
---
3. Outdoor Bar
The balcony is considered an integral extension of a home, especially since outdoor entertainment is increasingly getting popular with the guests. Thus, if your balcony is spacious, you can consider utilizing the area as an outdoor drinking place too.
Tip: Use only weather resistant materials so that the furnishing is able to withstand the damage from direct sunlight and rain. In addition, you should also consider the placement of the power sources as you may need to run electrical power into the balcony.
Image from sommelierwine.com.br
Image from mundodastribos
---
4. Wet Bar
A wet bar is different from a dry bar since a wet bar includes a sink. So, aside from mixing alcoholic beverages, the wet bar allows for wine glasses to be cleaned conveniently and for you to attend to accidental drink spills.
Tip: The water and electricity must be set up while setting up a wet bar.
Image from Housebeautiful
Image from pro.casa.abril
Image from casadevalentina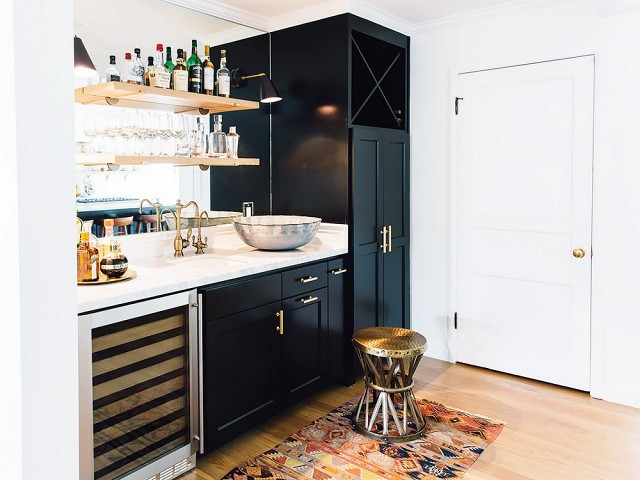 Image from mydomaine
With a bit of ingenious and creativity, you can create a home bar almost anywhere in any nook of your home! However, since designing a home bar requires experience and expertise, you should still closely work with a qualified home renovation professional to help you craft out a space that's both functional and yet attractive.
Lastly, here is an article and info-graphics on How to Stock the Prefect Home Bar to complete your mini home bar!
Image from vinepair
Meet Interior Designers. Get Quotes.
Get in touch with our listed renovation companies. They will provide you with a free non-obligatory estimate for any of the Renovation Packages included in their services.