12 Badass Bathrooms that Don't Let Their Small Size Get in the Way
Don't let their limited square footage fool ya; these small bathrooms are gorgeous and encompass clever small-space solutions, illustrating that being smart and stylish will never go out of style.
1. Get the vanity out
When space is in shortage, moving out your vanity just outside the bathroom may not be such a bad idea, especially when you get in return a gorgeous bathtub plus a vanity with an adjoining dressing table.
Design: Authors Interior & Styling
2. Hidden door, hidden storage
Extending the bathroom entrance out and flushing the doorway design with the rest of the cabinetry is one way to create a more seamless space. Plus, it also offers room for some extra storage. See that warm woodgrain panel near the bathroom entrance? That's where the homeowners stowed away excess towels and toilet rolls.
Design: ROOOT Studio
3. Use the space in front of the window
While bathroom windows are important for ventilation, sometimes you just need that extra storage space. Here, a slatted cabinet door hides the clutter behind open shelves without completely obscuring light or airflow.
Design: ROOOT Studio
4. Think ledges and recessed shelves
The dark red subway tiles in this petite bathroom give off a tinge of nostalgia, with the warm hues balanced out with the cool chrome of the fixtures. Ledges and recessed shelves here (check that one above the mirror!) offer plenty of display and storage room despite opting out of a vanity cabinet. A good choice we think since vanity cabinets can add visual bulk in a small space.
Design: Gruff
5. Open shelving can save some space
Who says you need to restrict storage to one side of the bathroom wall? Do up an L-shaped design with open shelvings on one side so you won't need clearance space for cabinet doors. Also, what's function without form? Check out those lovely teeny-weeny mermaid/fish scale tiles that cover the backsplash wall.
Design: Aart Boxx Interior
6. Don't let that space above the toilet go to waste
If your toilet has a concealed cistern, it's likely you'll have a bit of extra headroom above the toilet, which you should make full use of to maximise your bathroom space. We like this design, which instead of creating two separate storage pieces, combines the vanity mirror cabinet with the open shelves above the toilet into a singular structure. Things feel a bit more put together and elegant this way.
Design: The Interior Lab
7. A long extended ledge
Elongated ledges can be really useful in a small shower stall since they provide you with more flexibility for storing your bathroom products (no need to decant your shampoo into a shorter bottle). The minimalist design also streamlines the clutter, always a great choice to rein in mess in a small space.
Design: BuildBuilt
8. Sometimes, symmetry is overrated
We are all for asymmetrical bathroom vanities, especially when they help to max out a small space like this! Extending the bathroom cabinet all the way to the door and having the end cut diagonally across allows for more storage without impeding traffic in and out of the bathroom.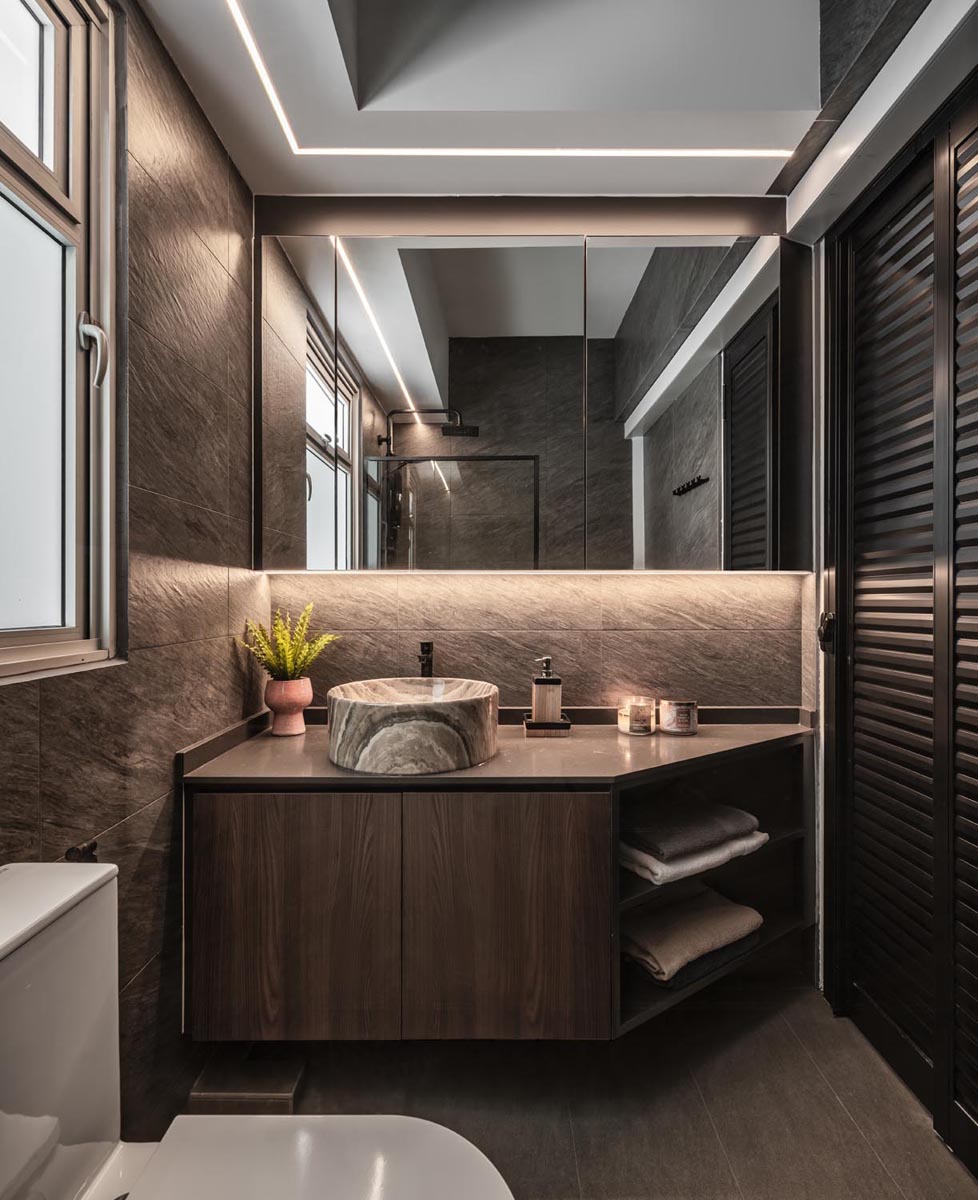 Design: Weiken
9. Pay attention to the grout for colour fun
A personality-filled red and white bathroom, which is not only shown through the tiles but also the grouting! It's one way to make a big visual impact without taking up any space. Also, love that petite curved shower panel that contains the splash where necessary without impeding too much elbow room.
Design: Fifth Avenue Interior
10. Minimal colour but small-space solutions aplenty
Besides keeping to a minimalist palette, this achromatic bathroom has a few other tricks up its sleeves to make the most of its limited space. One, no colossal-sized vanity counter taking up room—just a round one that has only enough space for the sink. Two, a shower glass panel that isn't fixed in place and can be opened up all the way and three, a ceiling-mounted shower head that helps to make the most of the shower area.
Design: Arche
11. Double-duty divider
Instead of going for a full glass on one side of the shower screen, a part of it was turned into lean shelving in this dark-hued, moody bathroom. A totally rad idea for eking out more storage space in a small bathroom.
Design: Arche
12. Get colour inspiration from K-pop
This black-pink bathroom manages to stay away from being too saccharine-sweet, thanks to the pops of black from the cabinetry and the pipes. It's a great way to de-ugly the sewage pipes and make them a part of the design without having to box them up which will only take up space and make things feel closed in.
Design: The Local Inn.terior
Meet Interior Designers. Get Quotes.
Get in touch with our listed renovation companies. They will provide you with a free non-obligatory estimate for any of the Renovation Packages included in their services.