Aug 2022 BTO: Unit Analysis for Sun Plaza Spring at Tampines
Easties or wannabe easties, you may want to set your sights on BTO Sun Plaza Spring at Tampines. Launched in Aug 2022, this upcoming development doesn't see high footfall or traffic in the vicinity so it's great for people who want to be in a quieter neighbourhood. Check out our site visit video below to see what we think of the area.
There are a few things to take note of when picking your unit, which we will delve deeper into in the unit analysis. It's also a project for larger families since there are only 4- and 5-room units available. We take a quick look-through of the available floor plans at the end of the article.
Overview
Bounded by Tampines St 41 and St 42

No
3

ESTIMATED COMPLETION DATE

4-room: $381K to $438K
5-room: $520K to $590K

• Tampines Interchange on the Downtown and East-West Lines (~14-min walk)
• Tampines East MRT station on the Downtown Line (~14-min walk)

PRIMARY SCHOOLS WITHIN A 1-KM RADIUS* *DISTANCE BASED ON APPROXIMATION, MAY DIFFER DEPENDING ON BLOCK

• Chongzheng Primary School
• Gongshang Primary School
• Tampines North Primary School
• Tampines Primary School
• Yumin Primary School

EXISTING AND FUTURE AMENITIES WITHIN 10- MIN WALKING DISTANCE

• Tampines Eco Green
• Tampines Polyclinic
• Under HDB blocks coffee shops at blocks 419 and 445
• N4 Neighbourhood Centre
• Sheng Siong supermarket at 506 Tampines Central 1

Site Visit
Here's how our site visit went:
Unit Analysis
Windy
The wind directions in Singapore are such that north-south facing units will be able to enjoy the most breeze. But it's not just about going for a north-south facing unit, you'll also want to make sure there are no hindrances e.g. nearby block to that airflow.
These are the breeziest stacks to go for: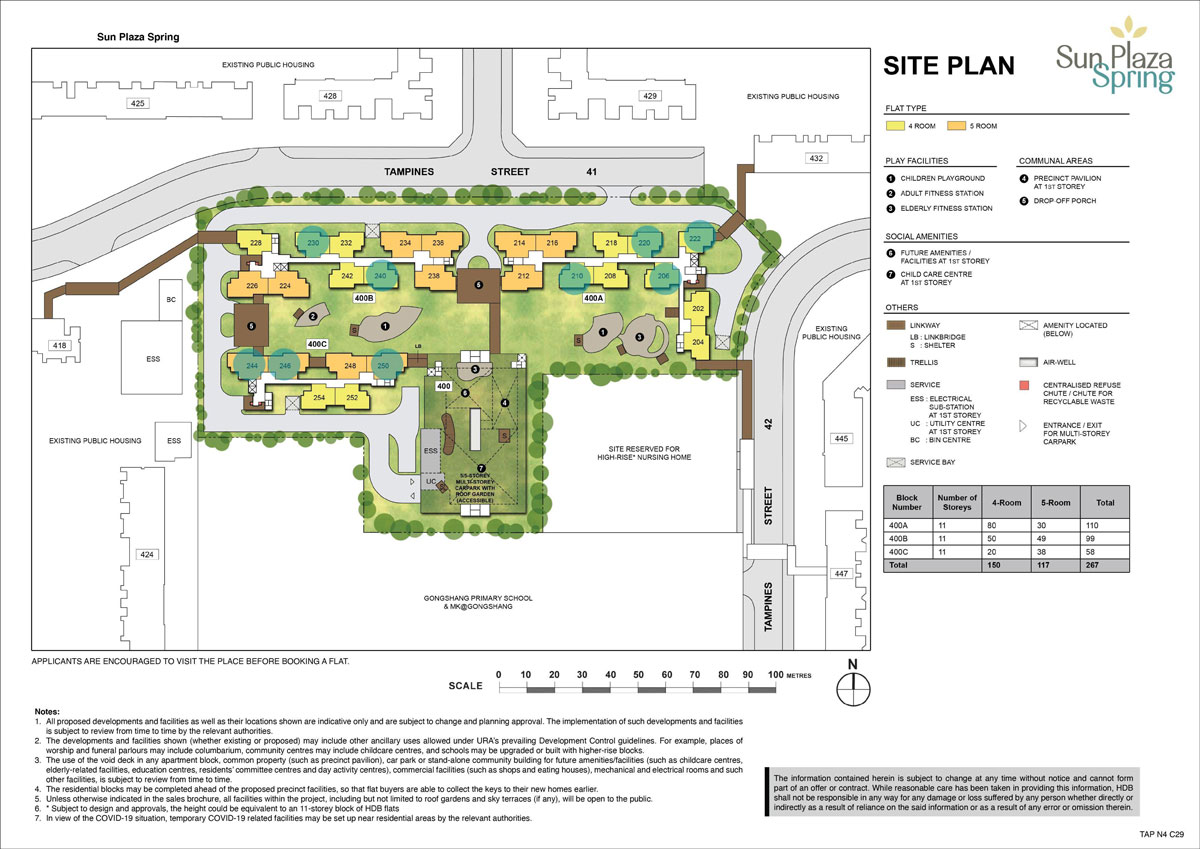 Colour Code:
Yellow = 4-room
Orange = 5-room
400A: 206, 210, 220, 222
400B: 230, 240
400C: 244, 246, 250
No Afternoon Sun
The hot afternoon sun comes in two directions in Singapore. From April to September, it comes from the northwest direction, while from October to March, it comes from the southwest direction. It usually lasts from about 1pm to 6pm.
See how the afternoon sun moves at the Sun Plaza Spring site:
These are the best stacks to go for if you want to avoid the afternoon sun:
400A: 202, 204
Privacy
There are a couple of things you want to look out for when going for a unit that has more privacy. Corner units, away from the rubbish chutes and the lift lobbies are the obvious choices. "Isolated" stacks without an adjoining stack are also good choices to consider. You may also want to pay attention to the distance between stacks or neighbouring blocks.
These are the best stacks to opt for if you want more privacy:
400A: 204, 212, 214
400B: 236, 238
400C: 250*
*For stack 250, avoid the unit on the same level as the link bridge to the car park if you are looking for a more private one.
Peace and Quiet
You can't quite avoid a "noisy" stack at BTO Sun Plaza Spring since most stacks either face the main roads or look inwards towards areas where people tend to congregate like playgrounds and fitness corners. But, as we found during our site visit, the BTO's situated in a relatively quiet nook of the neighbourhood.
Most of the outside facing stacks are along Tampines St 41 (stacks 214, 216, 218, 220, 222, 228, 230, 232). The road isn't an overly busy one but there is still some traffic and it also services several buses. Stacks 202 and 204 are facing Tampines St 42, which we think will be busier as the road leads into a future nursing home and the adjacent school, so you will likely see more traffic activity there during pick-up and drop-off hours.
The rest of the stacks don't face the road. However, most of the inward-facing stacks (206, 208, 210, 212, 226, 224, 240, 242, 244, 246, 248, 250) are overlooking or adjacent to drop-off porches, playgrounds and fitness stations. These areas are where people gather, wait for taxis, etc. so they may not be the quietest.
Then we have stacks 252 and 254 overlooking Gongshang Primary School. This means you are likely to be subjected to noises associated with school activities e.g. school bells, etc.
Since there isn't one perfectly quiet stack, you may have to decide what type of noise you are able to withstand in the longer term.
Other considerations:
For those who drive, staying at block 400C will likely be the most convenient with direct sheltered access to the on-site multi-storey car park.
If you don't like walking to the MRT station, it takes two bus stops to get to and come back from Tampines Interchange. There are also buses there that take you to Tampines East MRT. The nearest bus stops will be the ones along Tampines St 41, but they aren't directly in front of the BTO. Folks living in block 400B will have the quickest access to those bus stops.
We would recommend avoiding lower floor units at stack 250 since it's located right next to the car park, with the service yard having a full view (and sound) of the going-ons and revving of vehicles.

Floor Plans
4-room:
There are two layouts you can pick from for the 4-room flats at Sun Plaza Spring. The floor plan on the left has the bomb shelter located near the entrance of the home, while the floor plan on the right has the bomb shelter opening out into the kitchen.
The first floor plan results in a smaller, more cramped living room, but you do get a more flexible kitchen with an empty wall that you can use as vertical storage. And because the bomb shelter's near the entrance, you can utilise it as shoe storage.
The second layout feels a bit more spacious overall, but it does mean you have to account for the bomb shelter door in your kitchen design. The upside to this is you can include the bomb shelter as an additional kitchen pantry. You can also conceal it to look like it's part of the kitchen cabinetry, something like this:
Design: Charlotte's Carpentry
5-room:
The 5-room layout is pretty similar to the second 4-room floor plan, with the entrance into the bomb shelter located within the kitchen itself. The communal spaces, particularly the kitchen, feel pretty generous, so we think there is a lot of potential for what you can do with the zones. Because of how the kitchen is designed, we think there's plenty of room for a large, dreamy island. But if islands aren't your thing, you can also do up a peninsula counter for lots of countertop space:
Design: Zenith Arc
Meet Interior Designers. Get Quotes.
Get in touch with our listed renovation companies. They will provide you with a free non-obligatory estimate for any of the Renovation Packages included in their services.