Aug 2022 BTO: Analysis for Keat Hong Grange at Choa Chu Kang
Launched in August 2022, Keat Hong Grange BTO located in Choa Chu Kang is the project with the most number of units available for sale. We visited the site and checked out its surroundings, as well as do a quick analysis of the best units to pick.
Overview
Bounded by Choa Chua Kang Avenue 7, Choa Chu Kang Grove, and Keat Hong Link

No

2-room Flexi, 3-, 4-, and 5-room

5

ESTIMATED COMPLETION DATE

2-room Flexi Type 1: $102,000 - $131,000
2-room Flexi Type 2: $125,000 - $160,000
3-room: $194,000 - $243,000
4-room: $277,000 - $363,000
5-room: $390,000 - $508,000

• Choa Chu Kang West along the future Jurong Region Line (approx. 17 min walk)
• Upcoming Brickland station along the North- South Line (location not confirmed)

PRIMARY SCHOOLS WITHIN A 1-KM RADIUS* *DISTANCE BASED ON APPROXIMATION, MAY DIFFER DEPENDING ON BLOCK

• Choa Chu Kang Primary School
• South View Primary School
• Teck Whye Primary School

EXISTING AND FUTURE AMENITIES WITHIN 10- MIN WALKING DISTANCE

• Retail and food options at Keat Hong Colours BTO, including a U Stars Supermarket
• Retail and food options at Keat Hong Mirage, including a MacDonald's and a U Stars Mega Mart
• 253 Choa Chu Kang Market & Food Centre
• Keat Hong Shopping Centre (a two-storey neighbourhood centre, with food courts and other retail options)
• Several food options at ITE College West, including a training fine dining restaurant
Site Visit
Unit Analysis
1. No afternoon sun
If you don't want to be constantly switching on the AC, especially in the hotter months, you'll want to look for a unit that doesn't face the hot afternoon sun (usually from 1pm to about 6pm). It comes from two directions depending on the time of the year. From April to September, it comes from the northwest direction, while from October to March, it comes from the southwest direction. In general, you'll want to avoid units that have the majority of windows or important rooms facing the west direction.
Here's a look at how the afternoon sun moves in Keat Hong Grange:
The best stacks if you are looking to avoid the afternoon sun:
Colour Code:
Pink = 2-room
Green = 3-room
Yellow = 4-room
Orange = 5-room
822A: 404, 406, 408, 410 The 7-storey car park and neighbouring stacks at 822B will help to block off most of the afternoon sun coming from the southwest direction for these stacks. You may have to pick units on the lower floors to enjoy this advantage though, seeing as the car park and the neighbouring block are both shorter than these stacks.
822B: 424, 426, 428, 430
823A: 438 (Pick units on the lower floors for this stack if you want to avoid the afternoon sun coming in from the northwest direction, as the adjacent car park will be able to help provide some shade.)
824A: 462, 464, 466, 468, 470
824B: 486, 488, 490, 492
2. Privacy
Stacks with privacy are usually located at the corners, so you won't have neighbours looking in whenever they walk by. Do opt for units away from lifts and rubbish chutes as well, as these areas tend to have higher foot traffic.
822A: 410
822B: 418, 420, 422, 434
824A: 468
824B: 490
3. Peace and quiet
For homeowners staying at home for most of the day, it's best to pick a quieter unit. Look for ones that aren't facing areas where people congregate like the playgrounds, fitness corners, pavilions, hard court, childcare centres and bus stops.
Also, avoid ones facing the car park, if you don't want to be constantly disturbed by the revving of vehicles. This mainly applies to units on the lower floors since they are directly overlooking the car park.
If you are affected by traffic noise, you may also want to stay away from road-facing stacks.
Some stacks are also facing a site reserved for a school. As the school isn't built yet, you may have to contend with construction noise in the beginning and noises emitted from school activities (physical education lessons, school bells, the chatter of school kids, etc.) later on. So we'll also avoid those stacks if possible.
These are the best stacks to pick for quieter units:
822B: 424
824A: 472
Other considerations:
As there aren't any MRTs within a reasonable walking distance here yet, you are likely to rely on the buses if you take public transportation. There are essentially two buses servicing this area. Bus 991 stops at the bus stop along Keat Hong Link, while Bus 983 stops at the bus stops along Choa Chu Kang Ave 7 and Choa Chu Kang Grove. Depending on which bus you use more often, you may want to pick a block that's nearer to that bus stop.
Alternatively, if you prefer taking the LRT, go for a unit at blocks 822A or 823A, which are the nearest to the closest LRT station, Teck Whye.
Floor Plans
A cursory glance at the floor plans shows that they are pretty standard BTO layouts.
2-room
For the 2-room (Type 1) flats, the structural wall between the bedroom and bathroom does mean there's a limit to what you can do with the space. The kitchen's decent sized though, with enough countertop space. The Type 2 units have a bit more room, with an extra area (with a window!) that is large enough for a single-sized bed. It's a good option if you want a larger bedroom (the folding door between the spaces is optional) or for those who need to work from home since you can also consider using it as a home office done up like this below:
Design: I-Bridge Design
3-room
For the 3-room flats, the bomb shelter's located near the foyer rather than the walkway, so there's less wasted space. Also, it's located relatively close to the kitchen entrance so it can always serve as an extra pantry if space is tight. The kitchen's in a galley style, with not much room to change things around.
Both the bedrooms are pretty tight though, so there's no much room to create extra wardrobe space. If you don't need the extra bedroom, you can always convert one into a walk-in wardrobe. We also like that the wall between both the bedrooms can be cleanly knocked down to create a larger master bedroom, something similar to this one:
Design: Arche Interior
4-room
All the walls between the bedrooms are non-structural for the 4-room units, so that offers more flexibility in terms of what you can do with the space. The kitchen's a relatively fixed galley style, but you can always extend the area into the service yard by knocking down the divider if you need the extra space. There isn't a clear entryway for the 4-room flats, so you may find that it doesn't have as much privacy, especially if yours isn't a corner unit. You can consider building your own privacy screen and foyer like this home: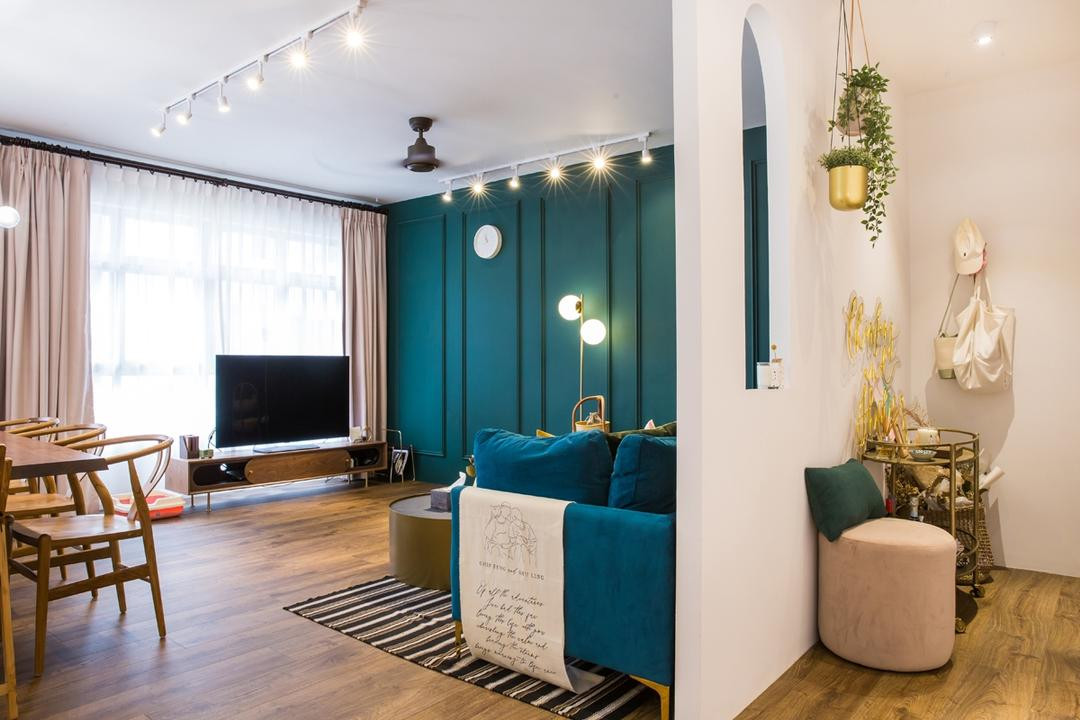 Design: Collate
5-room
The 5-room units offer quite a bit of flexibility in terms of kitchen space. There's the option of doing a wet-and-dry kitchen, the option of turning it into a closed galley style one or going with a kitchen island placed perpendicular to the entrance of the cooking space. Below is an example of how the kitchen can be done up. The countertop extends out into an L-shaped, offering plenty of prep space as well as a casual dining spot in the form of counter-height seating.
Design: Goy Architects
Meet Interior Designers. Get Quotes.
Get in touch with our listed renovation companies. They will provide you with a free non-obligatory estimate for any of the Renovation Packages included in their services.