Aug 2021 BTO Unit Analysis: Tampines GreenJade and Tampines GreenQuartz
Sitting at the edge of Bedok Reservoir, Tampines GreenJade and Tampines GreenQuartz are nestled amidst a cluster of other BTOs. We compare these two Tampines BTOs that were launched in Aug 2021, and see what units to go for if you decide to buy a flat at one of the two developments.
At a glance
Tampines GreenJade
Tampines GreenQuartz
Location
Bounded by Tampines Street 96 and Bedok Reservoir Road
Bounded by Bedok Reservoir Road and Tampines Street 95 and 96
No. of units
546
1,613
Unit types
4- and 5-room flats
2-room Flexi, 3-, 4-, and 5-room flats
No. of blocks
6
13
No. of floors
15 to 17 storeys
10 to 17 storeys
Surrounding amenities
•Nearest amenities: Supermarket, eating house and retail shops at upcoming BTO Tampines GreenGem (estimated completion in 2nd quarter of 2023) as well as the commercial development located along Tampines St 94 next to GreenQuartz •Hawker Centres: Tampines Round Market and Food Centre (~17-min walk), Kaki Bukit 511 Market and Food Centre (~18-min walk) •Park: Bedok Reservoir •MRT stations: Tampines West and Bedok Reservoir MRT stations (~8-min walk), both on the Downtown Line.
Schools within 1km (estimated)
Junyuan Primary School, Red Swastika School, St Anthony's Canossian Primary School, St Hilda's Primary School, Yu Neng Primary School
Estimated completion date
3rd quarter of 2025
2nd quarter of 2026
Which Tampines BTO to choose?
•Shorter waiting time, as fewer units in the development •Overall better lift to unit ratio •All 5-room units have balcony
•More playgrounds and fitness corners as well as a small park on site •More surrounding amenities •Some of the 4-room and 5-room units come with balcony
The sites
Tampines GreenJade and Tampines Quartz joins several other BTOs in the area. With a large part of the area still under construction, there aren't a lot of existing amenities nearby.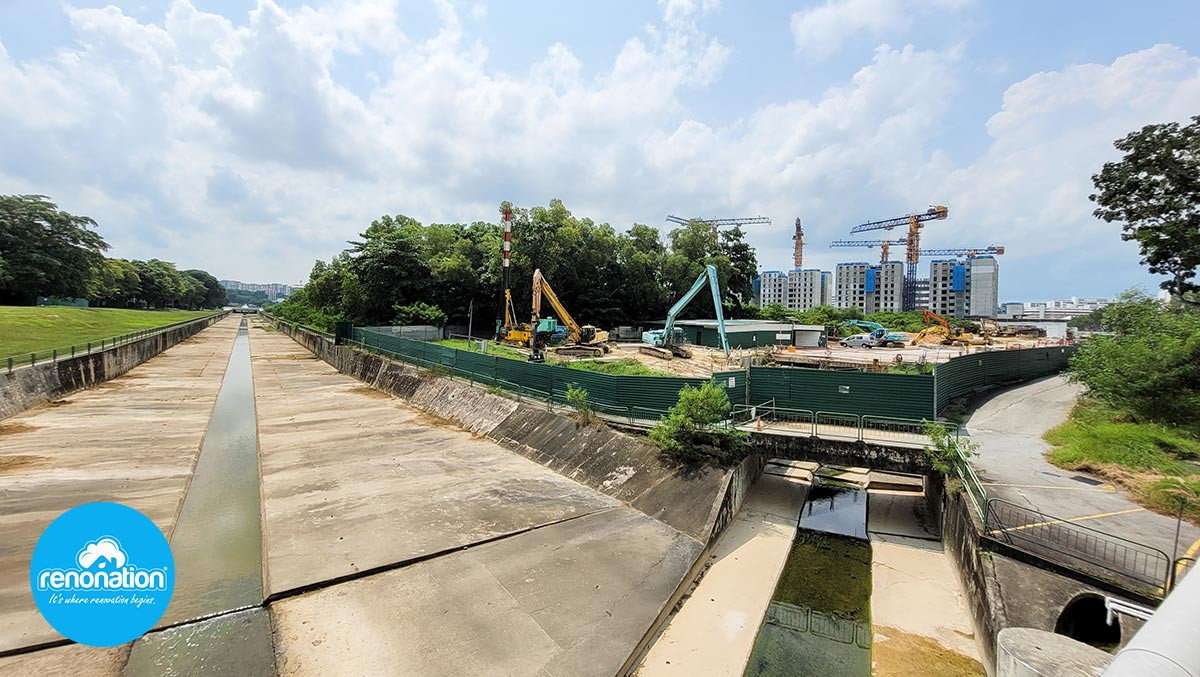 Site for Tampines GreenJade.
Site for Tampines GreenQuartz.
The nearest amenities will be located at upcoming
BTO Tampines GreenGem
, which is located adjacent to Tampines GreenJade and opposite the site of Tampines GreenQuartz. The amenities include a supermarket, an eating house and other retail options. There is also a future commercial/residential entity next to GreenQuartz. For hawker centres and wet markets, you'll have to walk further out to reach them.
The nearest amenities surrounding Tampines GreenJade and Tampines GreenQuartz.
Source: URA's Master Plan

If you like the outdoors, this is a great place to be. We spotted a lot of cyclists during our site visit. It stands to reason as the area has quite a number of cycling paths (cycling network in Tampines is set to triple to 21 km by 2022) and is well connected by park connectors and with Bedok Reservoir nearby. In terms of public transportation, there isn't a huge difference in distance between Bedok Reservoir or Tampines West MRT stations, both of which are on the Downtown Line. GreenJade residents might prefer Bedok Reservoir while homeowners over at GreenQuartz are likely to go with Tampines West. However, if you are thinking of heading down to Tampines Interchange to connect with the East-West line or to visit the bigger shopping malls surrounding the Tampines train station, Tampines West is just one stop away.
What units to choose for Tampines GreenJade?
Unlikely to get afternoon sun
: Avoid choosing stacks that may be getting the afternoon sun from either the northwest or southwest directions. Stacks 106, 112, 126, 128, 130, 142, 154 and 160 are the best choices if you want to avoid the afternoon sun. However, these stacks are likely to get the morning sun coming from the East.
Privacy
: The rubbish chutes and lifts are located in very close proximity to some of the units in Tampines GreenJade. You'll want avoid those stacks if you don't like neighbours looking into your flats while throwing out the trash or waiting for the lifts. For privacy, these are the best stacks to go with: Stacks 106, 108, 118, 120, 130, 132, 142, 144, 154, 156, 166 and 168.
Less noisy
: Choose stacks away from the main road (Bedok Reservoir Road) to avoid traffic noise. And don't pick stacks near areas where there is a high concentration of human activity if you want a quieter stack. Stacks to avoid include those close to the pavilion, drop-off points, playgrounds, fitness corners, car park, childcare centre, bus stops and adjacent school Temasek Polytechnic. Choose these stacks for peace and quiet instead: 104, 114, 116, 124, 136, 150 and 164.
Note
: All the 5-room units at Tampines GreenJade come with a balcony.
What units to choose for Tampines GreenQuartz?
Balcony
: Some of the 4-room and 5-room units at Tampines GreenQuartz come with balcony. Balconies add an extra 3 sqm to the size of your flat. These are the stacks with balconies:
967A
: 305
967C
: 337, 341
967D
: 357, 361
969D
: 429, 433
970B
: 461, 475
972B
: 513
972D
: 521
Unlikely to get afternoon sun
: The afternoon sun comes in two directions in Singapore. From March to September, it comes from the northwest direction. From September to March, it comes from the southwest direction. These are the stacks that are likely to have the least afternoon sun:
967A
: 309, 311, 313, 315
967B
: 325, 327
969A
: 377, 379
969B
: 381
969C
: 403, 405
969D
: 419
970A
: 437, 439, 457, 459
970B
: 475, 477
972B
: 493, 495, 497, 499, 501, 503, 515
972C
: 521, 523
Privacy
: If privacy is important to you, go with a corner unit that is away from the lifts and rubbish chutes:
967A
: 303, 305, 315
967B
: 323*, 329
967C
: 339*, 341*
967D
: 359*, 361*
969A
: 367, 369, 375, 377
969B
: 385*, 389, 391
969C
: 399, 409*, 413, 417*
969D
: 423*, 427, 429
970A
: 439, 441*, 457
970B
: 463, 467, 471*, 473
972A
: 483*, 485, 491
972B
: 505, 513
972C
: 519*, 525*
*Depending on the design of the BTO, your neighbours may be able to see into your service yard from the common corridors. Check the 3D model of Tampines GreenQuartz to be sure.

Peace and quiet
: Looking at all the four roads surrounding the site, Bedok Reservoir Road looks to be the biggest and busiest. However, all the other three roads also lead into future commercial entities, so we believe they will get relatively busy as well. Tampines St 96 and Tampines St 95 also have bus stops along the roads, and this will undoubtedly contribute to traffic noise. If traffic noise is a concern for you, you'll want to avoid stacks facing any road in this BTO.
Along Bedok Reservoir Road.
For zones with high human activity, you are looking at areas like the pavilions, playgrounds, park on-site, the childcare centre, car park, fitness corners and drop-off points. As such, these are the best stacks if you want some peace and quiet:
967B
: 319, 321, 323, 325
969B
: 391
969C
: 403, 405
970A
: 441, 459
970B
: 471, 473
972B
: 505, 507
Still got questions on either Tampines GreenJade or Tampines GreenQuartz? Let us know in the comments!

Meet Interior Designers. Get Quotes.
Get in touch with our listed renovation companies. They will provide you with a free non-obligatory estimate for any of the Renovation Packages included in their services.