Ask the Experts: Setting Up a Home Theatre System in Your HDB Flat
Setting up a home theatre system in your HDB flat is an indulgence you should consider investing in, whether you are a movie buff or are just looking to add a little more oomph to your home entertainment.
Design: Jesigns Interior Design Because we are no experts, we roped in a couple of home theatre specialists, Absolute Sound Singapore, Home Cinema Pit and TriTone AV, to answer some questions regarding setting up a home theatre system in your flat. From what colour scheme to go with to where the speakers should go, we've got you covered.

What are the essentials required in a home theatre system?
Design: erstudio A reliable AV receiver (where everything connects to), a TV or a projector with projector screen, a media source like a Blu-ray player if you have a lot of Blu-ray content or streaming services such as Netflix or Apple TV, and a 5.1 speaker setup (five speakers and a subwoofer) for a surround sound experience. According to Absolute Sound Singapore, most homeowners mistakenly assume two speakers and a subwoofer are sufficient for surround sound. However, this is not the case. The expert explains: "Most surround sound encoded audio requires at least five speakers. When you play back using only two speakers and a subwoofer, you end up with missing information in the scene and lose imaging and focus because there's no sound panning." Which part of the home is best for setting up a home theatre system? Ideally, a room that has little to no windows would be best. As that is usually not feasible in HDB flats, our specialists recommend choosing a rectangle shaped room in order to get the best acoustics. This is however becoming less important with today's advancement in room calibration technology. The living room is a popular choice for a home theatre, as it's a communal space, which encourages participation and involvement from the whole family. If you prefer something more intimate or it's a supplementary setup, Absolute Sound Singapore recommends the master bedroom. What colour scheme and materials do you recommend for the surfaces of the home theatre?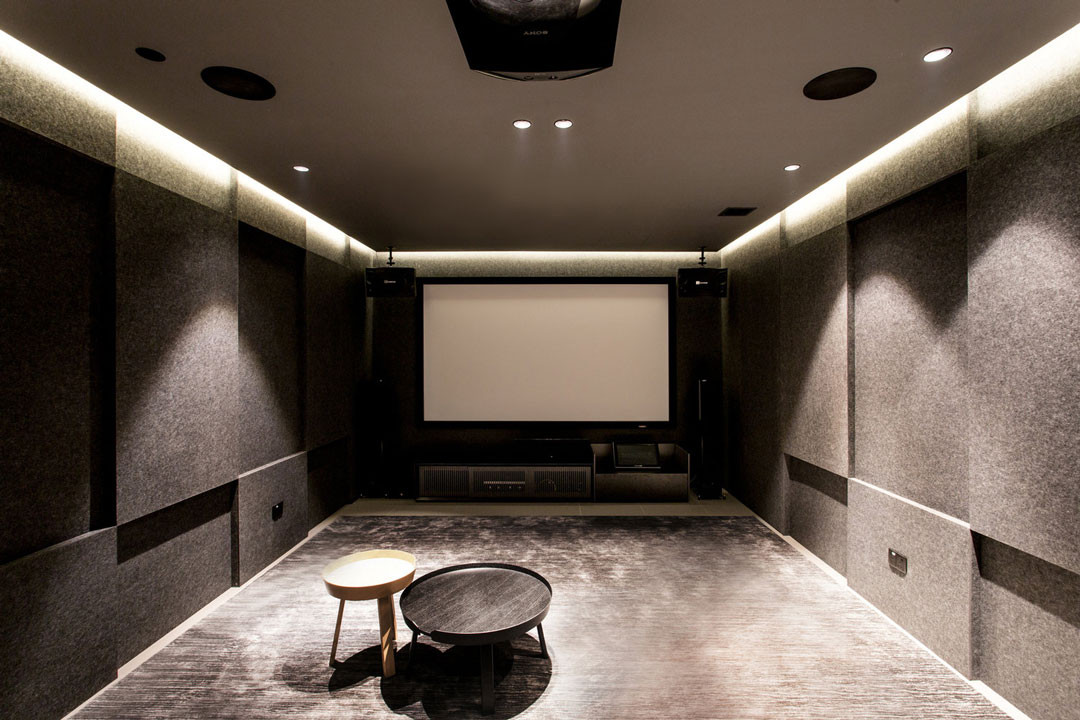 Design: Sujonohun Concept & Design A dark colour scheme works best, according to the pros from TriTone AV and Home Pit Cinema, who say that this will help to reduce reflection. Absolute Sound Singapore notes that this is more of an issue if you are going with a projector rather than a TV. "TVs are normally more accommodating in terms of visuals. Projectors on the other hand needs a dark colour palette to enhance the cinematic feel and to avoid distractions." To enhance acoustics, Home Pit Cinema recommends going with vinyl or hardwood flooring as well as gypsum or plywood walls. In terms of layouts and furnishings, is there anything to take note of? Don't use glass or mirrors in a home theatre, says Absolute Sound Singapore, as these can cause unwanted reflections. A backlit TV wall is also a no-no, says Home Pit Cinema. For seating, TriTone AV recommends a sofa or a couch with a deep backing for comfort and then locating it away from the walls. "Avoid setting seats in the corners of the rooms, as that will cause bass to swell," adds the professional. When it comes to lighting, our experts recommend layering your light by having a combination of different types of lights to accommodate for different needs. They also recommend going with a dimmer, which will help to create a variety of moods. What is a good budget to set aside for setting up a home theatre system in an HDB flat? If you are just starting out, Absolute Sound Singapore suggests setting aside $5,000, which can get you a compact Dolby Atmos setup. "Most movie content can be found in Dolby Atmos these days, so it has the benefit of being the current industry standard." For homeowners who are looking to get a projection TV in the setup, TriTone AV advises setting aside about $7,000 to $10,000. The low-end of this estimate can get you a soundbar with actual surrounds, UHD resolution projector and motorised screen. Why would one go with a TV over a projector, or vice versa?
Design: Earth Interior Design Some people find projectors less tiring on the eyes, says Home Pit Cinema. Plus, they allow for a more immersive experience. However, according to TriTone AV, they work best in darkened rooms. So if you have a space that has even some light coming through, images on a projector screen can appear washed out with little dark details. In addition, going with a projector might mean you will have to do more space planning to maintain a seamless look, says the pro from Absolute Sound Singapore, since you may need to run HDMI and power cables through your ceiling if you plan to ceiling mount your projector. With TVs, they have minimal installation costs. Plus, they are great for overcoming any light distortions. If you are opting for a TV, 55" for an HDB flat is a good size to start with that is neither too small or too large. Home Pit Cinema strongly advocates getting at a 4K TV (screen resolution of 3,840 x 2,160 pixels) with HDR (High Dynamic Range – better contrast) for the best visual picture. Confused about today's TV terminologies? Check out our guide here. A good alternative for smaller apartments are short throw laser projectors. "They can be placed as close as 6cm away from your wall and have an 84-inch screen size, or bigger if the projector is placed further away," says the expert from Absolute Sound Singapore. How should the speakers be placed around the room?
Design: D5 Studio Image The most important speaker is the centre speaker, which is where the dialogue comes from. It should be placed above or below the TV, whichever is closer to the tweeter of the left and right speakers, which are placed, accordingly, on the left and right sides of the TV. The other two surround speakers should be located about 90 to 110 degrees from the centre of the seat. The specialist from Absolute Sound Singapore also highlights that most of the speakers' tweeters should be angled toward the listening position, that is, at ear level, for optimal experience. Besides getting the basics right, how else can we create a more immersive experience in our home theatre system?
Design: Space Define Interior

One of the best ways is to add more speakers. If going with a 7.1 speaker setup, Absolute Sound Singapore advises placing the surround left and right speakers by the side of the couch and the rear left and right speakers behind the couch in a narrow angle. TriTone AV's expert also suggests adding more subwoofers to balance the bass around the room. If you have media content that supports Dolby Atmos, Home Pit Cinema suggests adding two additional ceiling speakers to achieve a truly immersive experience as this will allow sound to come at you from a different axis. The home theatre specialist from Absolute Sound Singapore sums up the experience: "When you see a plane on screen and it soars toward you and over you, you'll actually hear it go right over your head if you have ceiling speakers. Opting for additional overhead speakers can really make a difference." If we are getting in a professional to do up a home theatre system, what will the service include? The service will usually start with a planning and consultation stage, involving the homeowners as well as the relevant contractors or interior designers. This will allow the professionals to better understand the needs and wants of their clients as well as to ascertain the feasibility and limitations of the space. This stage will also comprise system demonstrations, a discussion of how things work, as well as a plan for the placement of equipment. During the installation stage, cables are first laid out. This can be done by the main contractor already engaged by the homeowner or by the professional. "Some clients will prefer us to do the cabling works for their home theatre system because the cabling method for audio and visual equipment is completely different with that of other electrical fittings," explains the expert from Home Pit Cinema. Then comes the hardware installation. Once that is done, there needs to be an audio and video calibration as well as adjustments. The professional will also do a walkthrough so that the homeowner will be able to familiarise themselves with their new system.
Browse through the list of Interior Designers, their reviews and portfolios at http://www.renonation.sg/professionals/interior-designers/
Submit your renovation enquiry:
Meet Interior Designers. Get Quotes.
Get in touch with our listed renovation companies. They will provide you with a free non-obligatory estimate for any of the Renovation Packages included in their services.