A Guide to the Brutalist Style
If you're currently in the process of gathering ideas for your upcoming home renovation, chances are you would have come across the term brutalist when it comes to interior design. This style has been gaining quite a bit of traction this year and we are seeing a number of homes adapting the look in their homes. Despite its intimidating name, the brutalist style isn't as aggressive as it sounds, although it does have a somewhat controversial past.
A Short Origin Story of the Brutalist Style
With a focus on pared-back minimalism, brutalism first appeared in the 1950s as an architectural style. Its name is derived from French. Béton brut, which translates to 'raw concrete', was a label used to describe unfinished concrete. Brutalist buildings were similar—most were rough and tough concrete-clad, imposing monolithic structures juxtaposed with modern materials like glass.
The Geisel Library in California is one of the most recognised brutalist buildings.
Photo credit: O Palsson
Brutalism aimed to promote simplicity and sincerity in design, opting for practicality over fancy, atas details. Public opinion over the style soured in the 1980s though, as it became associated with communist countries like the Soviet Union.
In recent years however, there has been a resurgence of the style with supporters speaking of its positive origins. Closer to home, heritage buffs championed to save brutalist-style buildings such as Pearl Bank Apartments (now converted to a high-end condominium called One Pearl Bank) and Golden Mile Complex.
The original Pearl Bank Apartments in Singapore was an example of brutalist architecture on our sunny shores.
Photo Credit: Jonathan Lin
As far as its reception goes, it's definitely turning a corner. Whether it's attributed to the passage of time or the barrage of Brutalist architecture we are seeing on our feeds, we don't know. But what we do know is that this aesthetic is surprisingly chic on the grid:
Instagram profile @brutbuilds
Recreating the Brutalist Style at Home
But the Brutalist style goes beyond just having a raw, stark appearance. Dig deeper, and you'll realise it's a whole movement on being frank, functional and frills-free. If this style resonates with you, we have a few tips on how to bring it into your home:
Concrete everything
Concrete plays a big role in the brutalist style, so you'll want to have it at the front and centre of your home design.
For residential interior use, cement screed (a mix of cement, water, and aggregates), new material microcement, or concrete-effect materials are great options for introducing concrete into your surfaces.
This bedroom features a rough-textured cement screed wall.
Design: The Local Inn.terior
Cement screed's caveats are that it tends to result in chips and cracks over time. And because of its porosity, you'll want to avoid it for wet zones like the kitchen and bathroom.
Microcement's the newer, flashier cousin, and its main advantage over screed is that it can be used in wet areas since proper application makes it seamless. It also offers a much smoother aesthetic, which is great if you want a cleaner look. The downside to it is that it is a lot pricier than screed, costing around S$15 psf.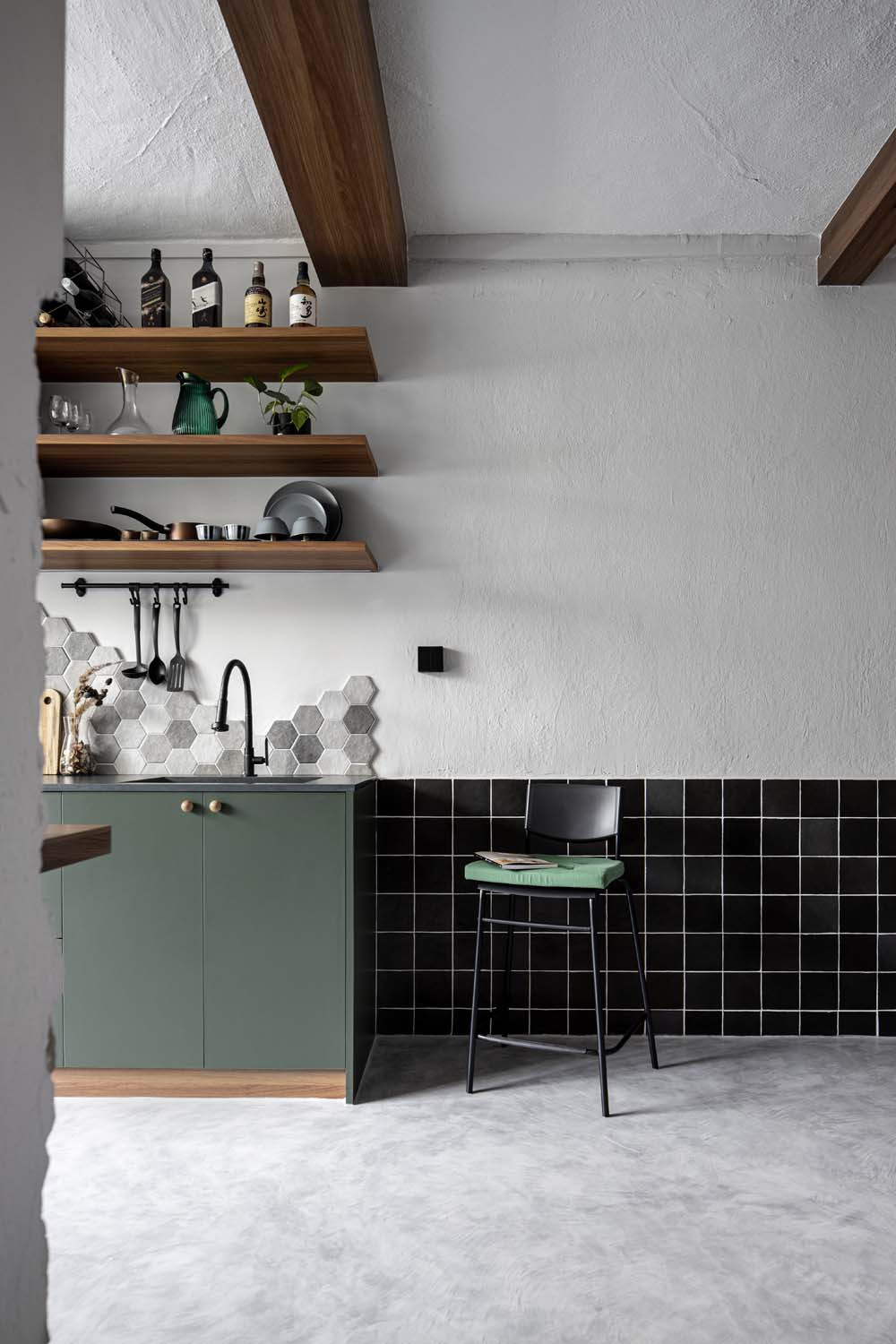 Flooring clad in microcement.
Design: Authors Interior & Styling
If you want fuss-free, there are a whole ton of concrete-effect tiles that offer a similar look but without the difficult maintenance. For kitchen countertops or vanities, concrete-like quartz or sintered stone can be good concrete alternatives.
Another more unconventional option to think about is limewash paint, which has a chalky appearance similar to. We talked about it at length here.
Having an achromatic, pared-back palette (but make it interesting)
Brutalist interiors should mainly feature a stripped-back colour scheme. No bright flashes of colours, please—keep to shades of grey (easy, thanks to the heavy use of concrete) or other achromatic colours like black and white. This supports the industrial feel of the space, creating the bold, stark, minimalist aesthetic it is known for.
Colours kept minimal.
Design: SG Interior KJ
It can look a bit cold and one-note—although that's really quite the whole intention—so if you want to make things feel a bit homier and more interesting, you can always bring in various elements. This year is also the year where we are seeing the take on brutalism feeling a bit warmer, so you can still keep the spirit of things, just with a dose of cosy.
To stay true to the theme, stick with the same colour scheme but vary the look of concrete by including things like fluted panels, textured walls that look like real stone, or even wired glass.
A fluted feature wall next to all the concrete.
Design: The Local Inn.terior
'Exposed' concrete wall.
Design: Oblivion Lab
Adding curves is another way to create focal points in your space. What's great about incorporating curves is that not only is it a trendy interior design technique, but it can also help soften the harshness of brutalist-style architecture and make your room feel more inviting and cosy.
Bringing in curves in this brutalist style space through the columns and edges as well as the choice of furnishings like the boucle sofa.
Design: SG Interior KJ
Experiment with different materials, like incorporating boucle (so trendy) or wood to contrast with the concrete. If you go for wood, stick to grey tones to maintain the brutalist feel. Metallic accents can also work well to enhance the overall look.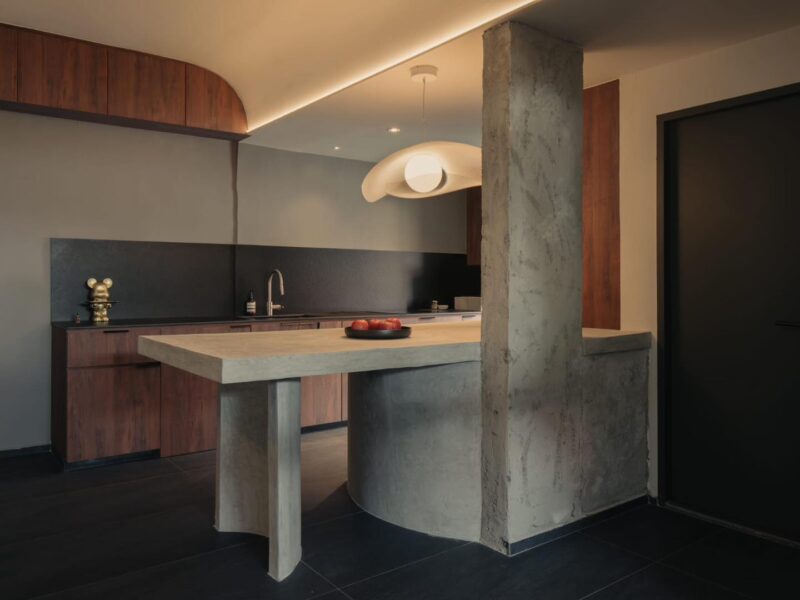 Introducing wood with all that concrete.
Design: Three-d Conceptwerke
Lots of interesting textures here, from the mushroom grey backsplash to the wired-glass divider.
Design: UNO Interior
Lighting, particularly warm lights, will bring out a homier mood to a brutalist-style home. But lighting can also be used for shadow play, which will add a whole lot of dimension to the space.
What lighting can do.
Design: SG Interior KJ
Blocky, monolithic structures with hard lines and geometry, but don't forget functionality!
Brutalist architecture tends to be massive, monolithic buildings, defined by hard angles and geometric shapes, which can feel quite monumental.
Monolithic, sculptural furnishings.
Design: Oblivion Lab
To translate that into the interior, consider choosing large, solid structures and furnishings that make a statement and can stand on their own. Ones made from a single piece of material are particularly eye-catching, such as a solid dining table crafted entirely from concrete. Choose forms with simple silhouettes that are sculptural yet stocky—nothing wispy or delicate here!
A chunky bathroom vanity station.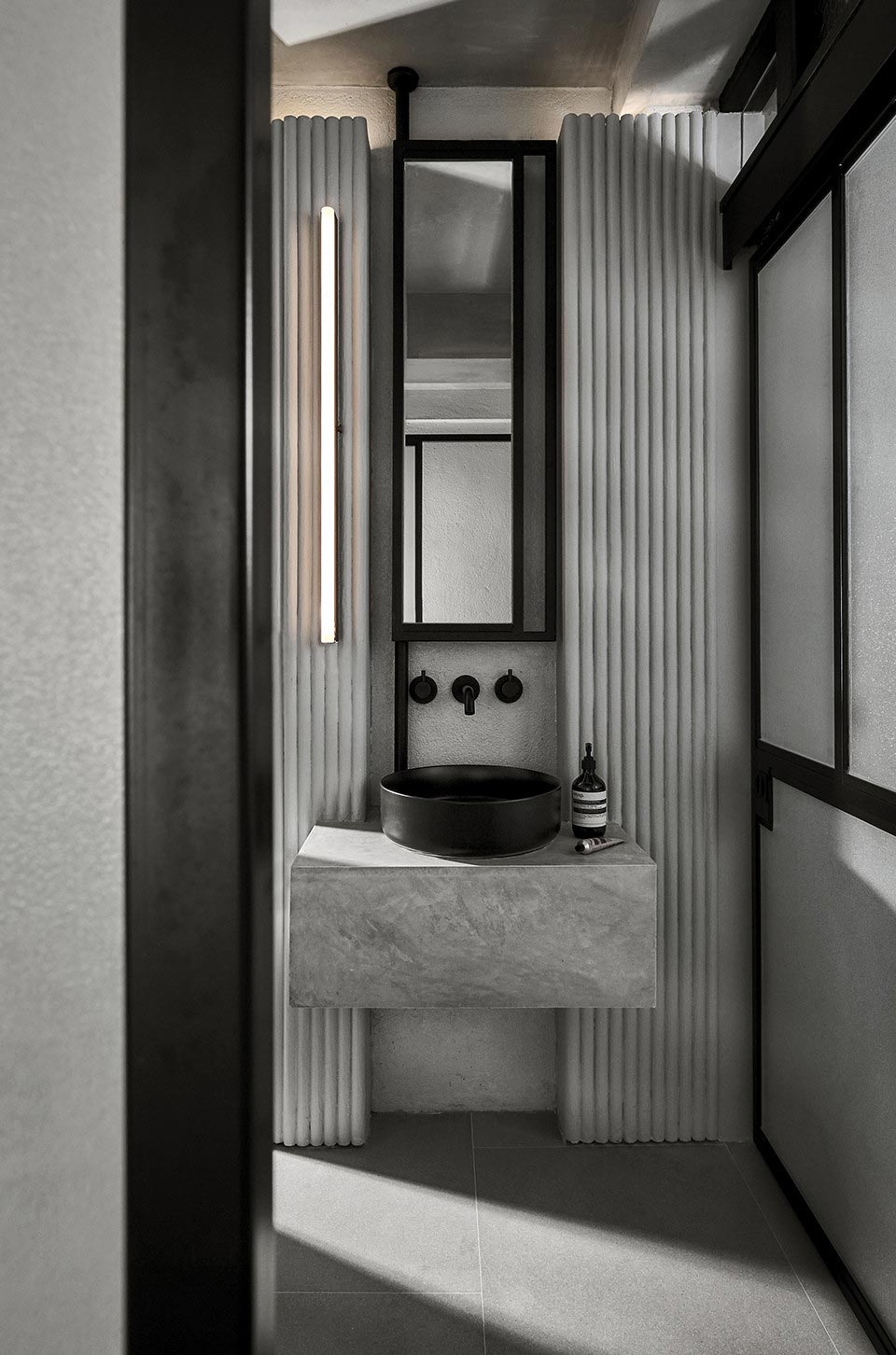 Geometry at play at this bathroom counter.
Designs: Upstairs
Obviously, you will need to balance things out a bit so you don't overwhelm your space, so you can either reduce the number of furnishings in a space or contrast a blocky dining table with dining chairs that have pencil-thin legs for instance.
Balancing the monolithic bar island with bar chairs that come with thin steel legs.
Design: Oblivion Lab
While it's important to consider the aesthetics of the furnishings when creating a brutalist-themed home, it's also equally important to emphasise functionality when selecting the pieces. This style did originate from a focus on functionality after all.
Meet Interior Designers. Get Quotes.
Get in touch with our listed renovation companies. They will provide you with a free non-obligatory estimate for any of the Renovation Packages included in their services.