A Guide to the British Colonial Interior Design Style
One of the few still celebrated legacies that the British Empire left behind during the era of colonisation in Asia was this hodgepodge of an interior design style. Done right, the British colonial interior design style evokes a breezy laid-back atmosphere, perfect for endless lounging and relaxation. We take a look at how to recreate this design in this style guide.
Background
Image courtesy of Galen Crout
The British occupation of the "tropics" between the 17th and 19th century represents a dark part of history, where exploitation and subjugation are couched under empire discourses of salvation and civilisation. But it was also within this period that we saw a series of cultural amalgamation, evident in the homes of these European immigrants who decided to settle down in their colonies.
These colonists brought with them the elegance and formality of British interior design—the height of which was the Victorian style then—and adapted them to the heat and climate of the tropical environments while drawing details from local traditions and culture. What resulted is a blend of tropical living with the classic and formal styles of British interiors.
Whitewashed walls
Design: Sync Interior
The heat, sun and humidity of the tropics were often considered "hazardous" for European constitutions, so keeping the interiors feeling cool was often the first order of business.
Design: Sync Interior
Walls were therefore whitewashed or painted in soft cream tones or light sand to create the illusion of a light and airy space. These light-coloured walls also provided the perfect backdrop for the rich dark wood furniture and the eclectic décor.

Airy interiors
Design: DistinctIdentity
Wooden shutters were often employed to keep out heat as well as to protect the interiors from the frequent storms in the colonies. Nowadays, there isn't a real need for shutters, but you can still get them for a more authentic colonial look.
Design: Space Sense Studio
Most shutters come with fixed louvres, but for more flexibility, opt for those with adjustable ones that let you determine the amount of heat and light you want to come in. For a more modern window furnishing option, black-and-white bamboo blinds are a good alternative.
Design: M3 Studio
To further combat the heat and keep the air inside moving, ceiling fans became an important part of British colonial homes. Get the look with ceiling fans that come with dark woodgrain designs or ones with an antique metal finish.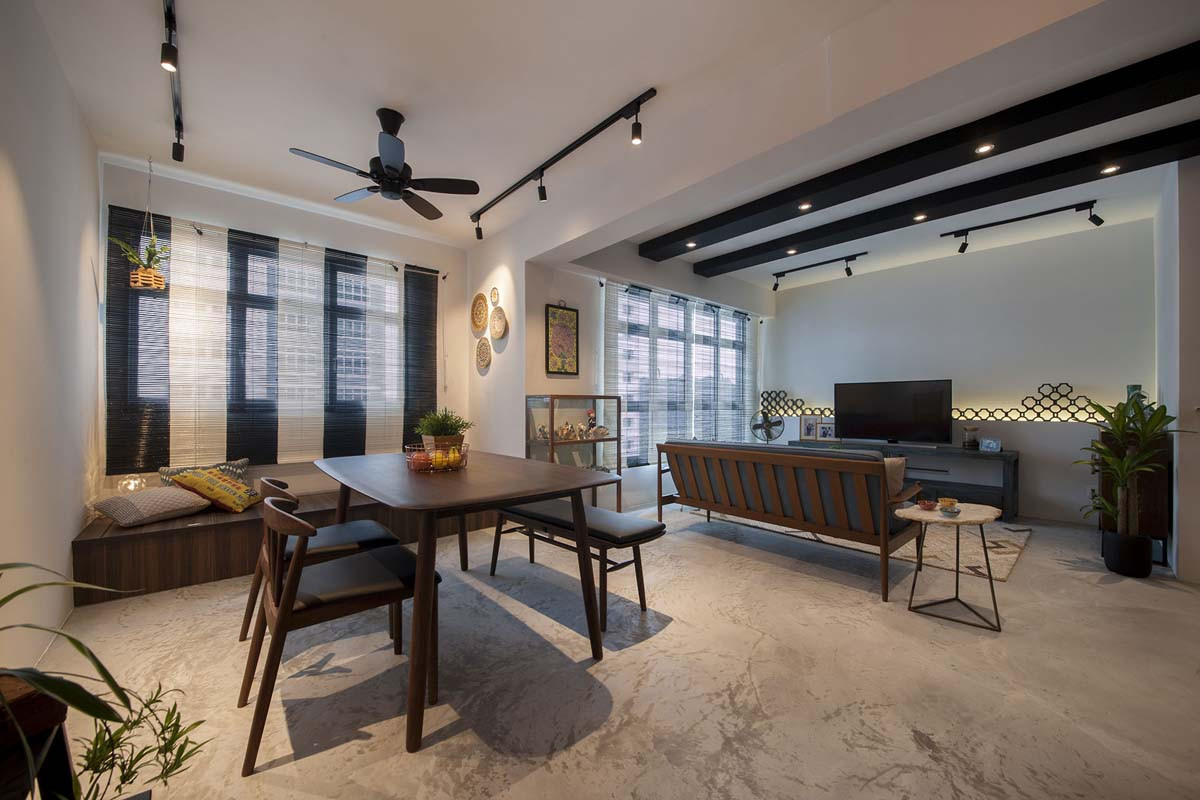 Design: M3 Studio
Textures through natural materials
Design: Haus Atelier
Because of the relatively simple palette, textures were used to create more visual interest in a British colonial interior. Consider then how to create a more layered home.
One way to do so is to include the use of natural materials. For flooring, opt for dark timber wood or a lookalike for easier maintenance. Sturdy and formal furniture in dark teak or mahogany (hardwoods did better in humid climates) were also a common feature in colonial homes. Look out for ones with ornate carvings or interesting motifs—animals, plants, fruits—that would add another layer of texture to your space.
Design: Insight.Out
Contrasting against this formal look were the more casual rattan and cane furniture and furnishings. These were lightweight—which made travel easier for the British adventurer—while also helping to beat the heat. Rattan daybeds are a common sight, conjuring images of lounging on a particularly hot afternoon.
Design: Ehka Studio
When inviting textiles and fabrics, go with light and breathable fabrics like linens and cottons. These contribute to the easy breezy feel of a British colonial style home.
Design: Authors Interior & Styling
Globetrotting tendencies
Design: The Association
The British elites likened themselves to a well-travelled sort, which meant their homes were often decorated with items that they have sought in their travels. When sourcing for furnishings, hit up second-hand furniture stores for unique and vintage pieces to add to your home. Consider also exotic, travel-inspired decor like Chinese ginger jars, blue and white porcelain, magnifying glass, old maps, travel trunks and telescopes.
Design: ICIA
Campaign furniture was also a must-have in the homes of the elites. Originally produced for British officers on military campaigns who stayed in tents and couldn't live without their modern comforts, they were later a staple in wealthier homes in the tropics. These were furniture that were multifunctional, collapsible and highly portable, to make travelling around with them easier.
Some common campaign furniture to include in your own British colonial style home are steamer chairs, folding drink trays, and military chest or chest of drawers that usually come with removable feet and can be split into smaller parts.

Tropical flair
Design: The Local Inn.terior
There was a certain obsession amongst the Victorian British for plant collecting. Plants in the tropics were seen as exotic, which saw many colonists incorporating tropical plants in their own homes. Large ferns, palm plants make a big impact while orchids and hibiscus offer a softer, more feminine touch to your British colonial style home.
Design: Collate
For the brown fingers, consider tropical prints with floral and fauna motifs as an alternative. Use them in wallpaper, soft furnishings and furniture upholstery. More unusual places to incorporate a tropical flair include drawer or cabinet handles, table décor or lighting.
Design: Collate
Design: Authors Interior & Styling
Stockist: 10 places to shop for British colonial style furnishings
The Past Perfect Collection
For: Campaign furniture and other antiques
315 Outram Road
#11-05 Tan Boon Liat Building
Singapore 169074
https://pastperfect.sg/
Island Living
For: Rattan furniture and gorgeous beds
5 Eunos Ave 8A
#02-05
Singapore 409459
https://www.islandliving.sg/
The GoDown
For: Conversation starters and interesting vintage items
100D Pasir Panjang Road
#02-08 The Meissa
Singapore 118520
https://www.thegodownstore.com/
Bungalow 55
For: British colonial style accessories and smaller furniture pieces
8D Dempsey Road
#03-04
Singapore 249672
https://www.thebungalow55.com/

Originals
For: Intricately carved furniture
1 Bukit Batok Street 22
Level 5
Singapore 659592
https://www.originals.com.sg/
Second Charm
For: Customised wood and rattan furniture
21 Kallang Ave
#05-165
Singapore 339412
https://www.secondcharmhome.com/
Junkie's Corner
For: Vintage trinkets and furniture
2 Turf Club Road
Singapore 287988
https://www.junkiescorner.com/
Singapore Trading Post
For: Romantic old Singapore furniture and décor
315 Outram Road
#07-01 Tan Boon Liat Building
Singapore 169074
https://singaporetradingpost.com/
Blafink
For: Customised upholstery pieces in tropical prints
19 Tai Seng Ave
#02-01
Singapore 534054
https://www.blafink.com/
Journey East
For: Solid wood (teak and mahogany) pieces as well as vintage furniture
315 Outram Road
#03-02 Tan Boon Liat Building
Singapore 169074
https://journeyeast.com/

Meet Interior Designers. Get Quotes.
Get in touch with our listed renovation companies. They will provide you with a free non-obligatory estimate for any of the Renovation Packages included in their services.