8 Easy Ways to Work those Tricky Corners!
Sometimes, we might end up with an apartment with a floorplan design that defines all logic; imagine landing up with a fan or an arrow-shaped HDB (hint: read this Bizarre HDB Floorplans which will leave you Flabbergasted post!).
While an unusual shaped floorplan might appear artistic and makes a killer first impression for our guests, it is at the expense of our usable space. Nevertheless, with some ingenuity and creativity, here are 8 ways for you to work that tricky odd corners and reclaim some of that odd pocket of space!
#1. Crave out a study nook
Turn the awkward pocket of space into a cosy study corner with a slim study table with drawers, complete with a stylish desk lamp. Build a half height glass partition for more privacy in a small space and even create an illusion of a bigger room.
Design: Absolook Interior Design
#2. Create a distraction
Anything that captures your attention will draw your eyes away from the awkwardly shaped room. Case in point? The strikingly luxurious, pristine white freestanding bathtub is the first thing you will notice in this arrow-shaped bathroom.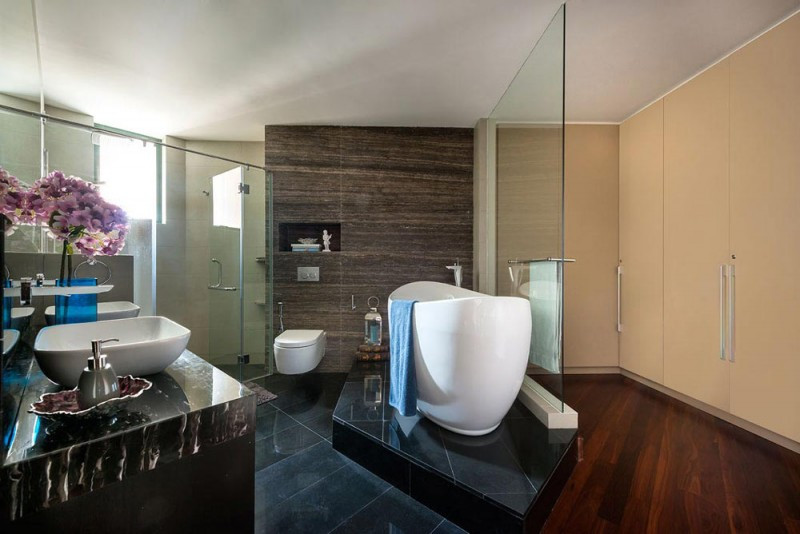 Design: Collective Designs
#3. Use all white
Covering everything with a unifying colour, such as white, will make awkward corners less conspicuous.
Design: Charlton Design
#4. Create a walk-in-wardrobe
An odd corner should not deter you from creating your dream walk-in wardrobe. Utilize every inch of your room by customizing ceiling to floor open shelf cabinet so that you can easily reach for your essentials.
Design: 3D Innovations
#5. Make it functional with plenty of storage!
Not a fan of walk-in-wardrobes? Fret not! Having an awkward corner doesn't mean you have to leave that space wasted; it is time to get creative and get your renovation professionals to design and build some useful storage cabinets and drawers.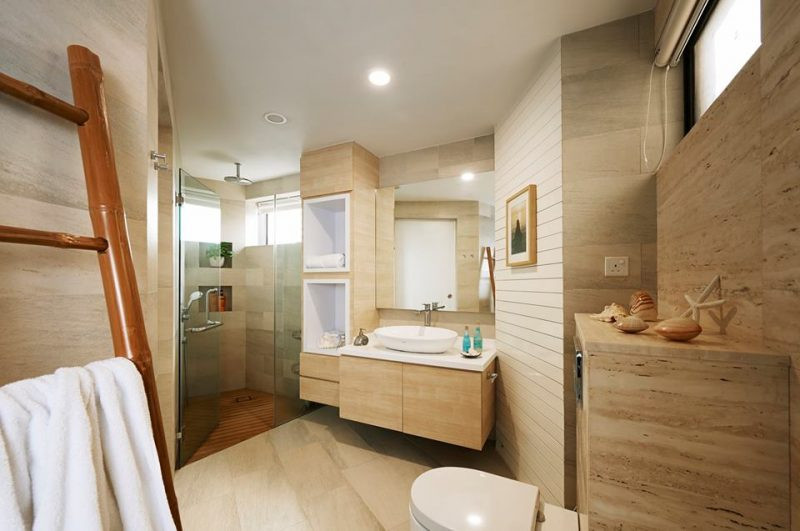 Design: Charlton Design

Design: DISTINCTidENTITY
#6. Jazz up with wall stencils
Sometimes, the odd corner might be too narrow for any customized storage cabinet solutions. However, instead of hiding it, you can make that wall stand out with wall stencils! Wall stencils are cheaper alternatives to designer wallpapers. They are available in an amazing combination of colors and designs.
Design: Dots n Tots Interior
#7. Disappear with mirror
A great alternative is to use a mirror to strategically make that slated wall "disappear"; the mirror also makes your room look bigger and wider too!
Design: 9 Creation
#8. Hide with ceiling to floor curtains
Curtains are excellent solutions to conceal clutters and literally keep the unsightly chaos under wraps. In addition, they are also quick fix solutions to hide odd corners. So, simply dress up that odd corner with ceiling to floor curtain to cover up!
Design: Arc Define
---
Browse through the list of Interior Designers, their reviews and portfolios at https://www.renonation.sg/professionals/interior-designers/
Meet Interior Designers. Get Quotes.
Get in touch with our listed renovation companies. They will provide you with a free non-obligatory estimate for any of the Renovation Packages included in their services.