7 Tips to achieve a Minimalist Home Interior Design
What is Minimalist Home Interior Design?
Minimalism is a style that uses pared-down design elements, where everything is stripped down to its very core and its origins can be traced to London and New York, where minimalist architecture became immensely popular in the late 1980s.
Minimalist home design is categorized by its simplicity through the predominant use of white elements, ample natural lighting and vast spaces, with minimal use of objects and furniture.
Its stylized signature look in home interiors is achieved by simple geometric forms and natural materials that are very easy to clean and maintain, with repetitions of structures to convey a sense of order and serenity. Furthermore, such an uncluttered look transforms a home into a peaceful sanctuary where you can relax and unwind after a hard day of work.
To achieve such a look is deceptively easy; in fact, it is pretty ironic that a truly minimalist home interior design is harder to achieve since its greatest impact can only be effectively delivered through extremely careful editing and much restraint!
However, fret not! The following minimalist interior design tips should help you get started!

The most straightforward way to reduce clutter is to keep them away from plain sight. Well, this can be easily done by keeping them hidden in storeroom, storage cabinets and so on.
Image from freshome
Image from Linear Space Concepts
Minimalist is the only home interior design where you can get away with little use of design embellishments, decorations and furnishing! This means doing away with many open shelves that show off your hobby collection, ornaments or fanciful cabinet designs. Basically, think simplification of the home interior; think in terms of simple, bare essentials which you really need.
Image from decorfacil
Image from The Mind Design
Inject orderly or even symmetrical spatial arrangements to convey a sense of clarity and richness. Use only simple furniture that is constructed in simple geometric forms. Use natural materials like wood, glass and concrete in its raw natural form as much as possible.
Image from behance
Image from Free Quotation
Incorporate as much natural lighting as possible; knock down walls and use light curtains to let in as much light as possible. Use low furniture to create a sense of larger vertical, open space and that much sought after airy feel.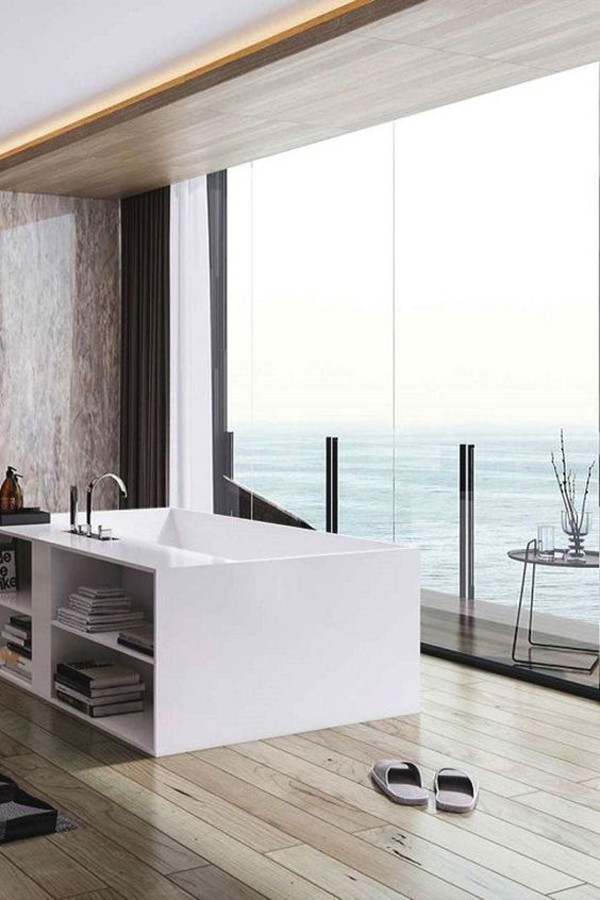 Image from theultralinx
Image from Project File
Image from Free Quotation
Keep the color palette simple and light. Neutral colors such as beige, grey when used together with predominantly white as the main base color, are the best to create an open and roomy home interiors. Use splashes of bold colors extremely sparingly via accent walls or accessories.
Image from port and quarter
Image from Free Quotation
All the talk about less is more with minimal use of design embellishments, decorations and furnishing don't mean that you end up with a sterile home that is impractical and non functional. Creative yet practical interior space maximizing solutions can still be incorporated in the home design while avoiding unnecessary intricacies and layers.
Image from pinterest
Image from The Design Abode
Image from Free Quotation
Since constructing a minimalist home interior is also the art of creating a comfortable, functional home interior that is also aesthetically pleasing, hence it is still recommended that you consult a trained professional for your home renovation.
Image from I-Chapter
Header image and icons from freepik
Meet Interior Designers. Get Quotes.
Get in touch with our listed renovation companies. They will provide you with a free non-obligatory estimate for any of the Renovation Packages included in their services.