7 Multipurpose Layout Ideas for Freehold Condo Wilshire Residences
Rooms that do more than one job is a great way to maximise a limited square footage. If you've always wanted to create multipurpose spaces in your home, we show you some ideas using unit layouts from upcoming freehold condo Wilshire Residences. Soon to be launched, this development is located at prime district along Farrer Road, and is nestled between expat enclaves Holland Village and Botanic Gardens, which is a great area to consider if you're looking to buy to rent or for long-term investment. Read all about it here.
1-Bedroom Type A Size: 463 sqft
Always wanted a walk-in wardrobe in your small bedroom? No problem. Have the headboard of your bed serve as a divider between the closet and your sleeping area for that exclusive walk-in wardrobe feel. Looking for a spot in your tiny kitchen for a home bar? Consider installing the wine chiller at the side of your kitchen counter so that you can reach out for a tipple or two without obstructing the working and prep zones in the kitchen.
Design:
The Local Inn.terior
and Notch Lifestyle + Design
2-Bedroom Type B Size: 646 sqft
Every inch counts in a small kitchen like this. Make the most of a corner cabinet by installing smart cabinet systems like this pull-out drawer. It's a perfect mechanism to store heavier pots and pans, or use it as a drying rack for your dishes.
Design:
The Interior Lab
2-Bedroom + Guest Type B1-G Size: 732 sqft
This layout comes with an additional guest bedroom, but unless you're hosting someone every day, it doesn't make much sense to use it exclusively as a guest room. Instead, do up a daybed in the area, which you can also use for relaxing and lounging when you don't have guests over. In the dining area, the built-in cabinetry for storing serving ware can also double up as mini home bar. Use open shelves to display your spirits and liquor bottles.
Design:
Sujonohun Design & Concept
2-Bedroom + Guest Type B2-G Size: 743 sqft
Two bedrooms are combined into one to create this multipurpose bedroom. Besides the sleeping area, there is a generous open concept walk-in wardrobe space complete with accessory island as well as a vanity table by the window.
Design:
Neu Konceptz
2-Bedroom + Guest Type B4-G Size: 764 sqft
If you're short on storage space in your small kitchen, consider building full-length cabinets. In this instance, there are open shelves that provide storage for larger everyday appliances, while pull-out drawers function as countertop prep space.
Design:
Space Atelier
3-Bedroom Type C Size: 840 sqft
Here's a master bedroom that packs all sorts of features and takes advantage of the generous surrounding windows. A section by the windows is converted into a bay window seat and a vanity dressing table with a pop-up mirror, while the other side of the windows features low cabinets so as to not block the view.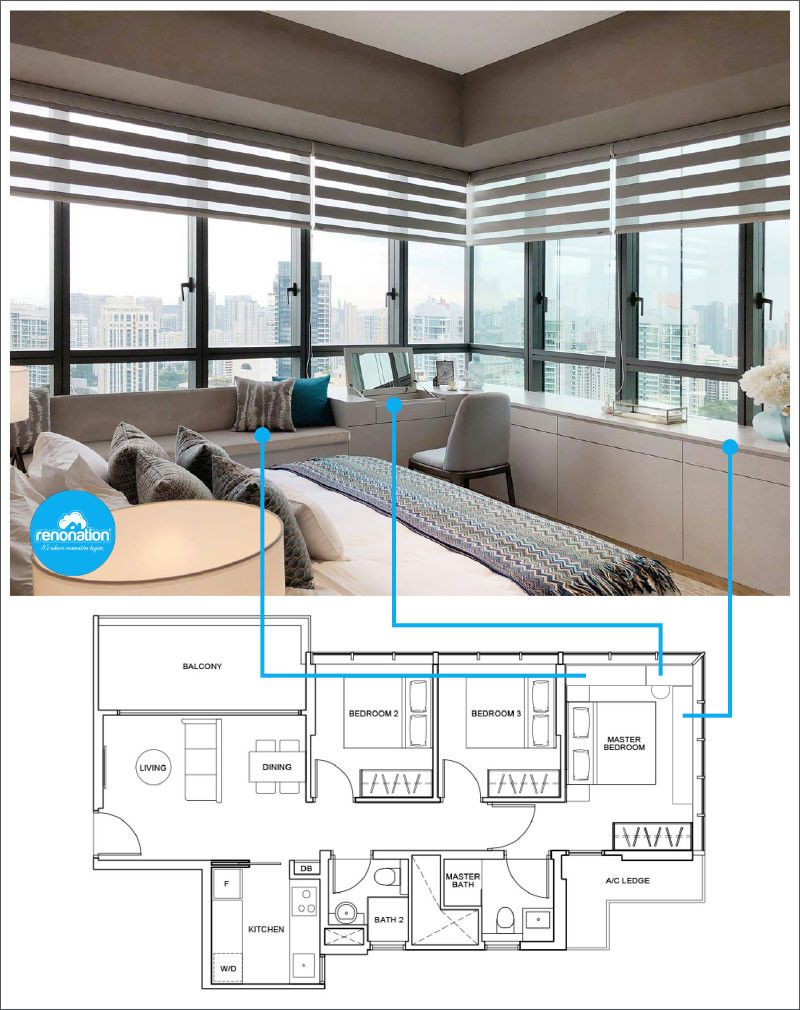 Design:
Design Basis
4-Bedroom + Guest Type D-G Size: 1,270 sqft
This is one of Wilshire Residences' largest layouts. The living and dining room is combined into one big open space. Use complementing but contrasting colour schemes and a storage piece like a low console cabinet in the middle to visually demarcate the zones. In the master bedroom, make it do more than one job by erecting a TV wall and a low table at the corner to function as a mini home office.
Design:
Sujonohun Design & Concept
and
DistinctIdentity
---

Browse through the list of Interior Designers, their reviews and portfolios at http://www.renonation.sg/professionals/interior-designers/
Submit your renovation enquiry:
Meet Interior Designers. Get Quotes.
Get in touch with our listed renovation companies. They will provide you with a free non-obligatory estimate for any of the Renovation Packages included in their services.