7 Modern Designs Under $35,000
We are always doing our best to stay relevant and to be knowledgeable about trends in today's evolving world. Apart from current affairs, celebrity gossip, and fashion crazes, the interior design scene is also constantly undergoing changes. Though Scandinavian and Industrial themes have been proving their dominion over households, Modern and Contemporary designs have not been forgotten. This list shows you why.
1. The warm golden hues enveloping this space work harmoniously with the shiny surfaces to produce a dazzling interior. Even the cosy little balcony has been transformed into a classy corner for tea.
Interior Designer: Diva's Interior Design Location: 311A Clementi Renovation Cost: $26,000
2. It looks like the homeowners are passionate about sharing their interests and collections here. Shelves running across the walls and flat, open spaces make for great areas for display.
Interior Designer: Sky Creation Design Location: Axis at Siglap Renovation Cost: $28,000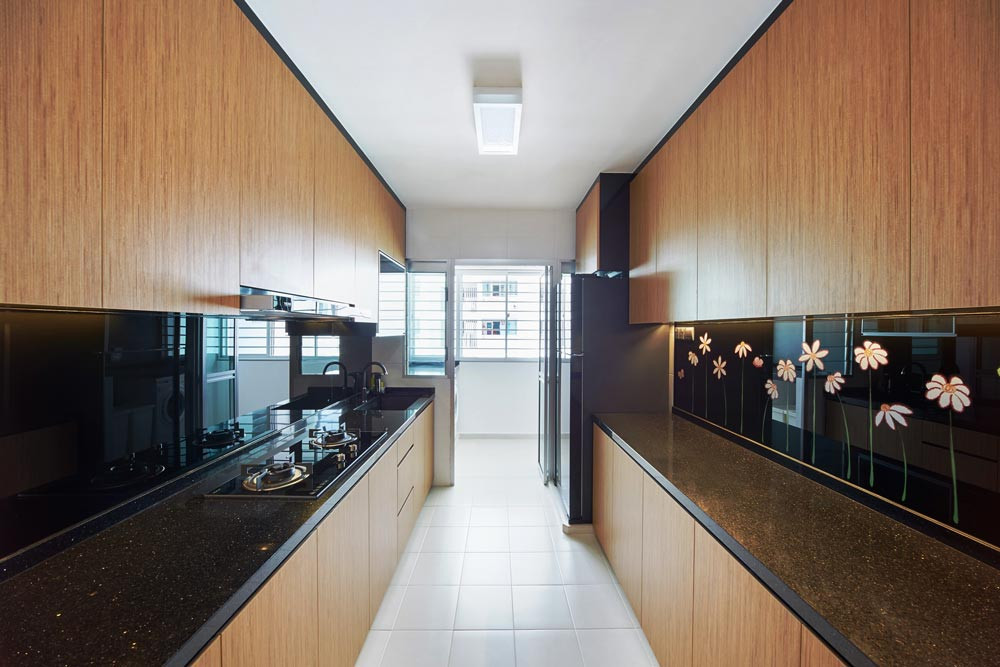 3. Clean and bright with a soothing colour palette, this space demonstrates simplicity and elegance in every corner.
Interior Designer: Design 4 Space Location: 505C Yishun Renovation Cost: $30,000
4. This interior offers a modern take on what Geppetto's comfy toymaker's cottage would look like today. See-through cabinets and shelves filled with a seemingly endless number of figurines and soft toys make this a fun and interesting space.
Interior Designer: Inspire ID Group Location: Tampines Central 8 Renovation Cost: $30,000
5. Everything looks stylish in shades of black and this interior shows it off perfectly. From the walls to the rug on the floor, everything pieces together to create a grand appearance.
Interior Designer: The Interior Lab Location: Punggol Renovation Cost: $30,000
6. Though white might seem a little plain or boring sometimes, it is still a widely popular choice when it comes to improving the overall flair of an interior. So if clean, neat, and uncluttered spaces are your thing, this colour scheme is for you.
Interior Designer: Lux Design Location: Blk 282C Sengkang East Avenue Renovation Cost: $31,000
7. An ideal home is one that evokes warm and fuzzy feelings when one steps into it. The compact designs of the various rooms shown here definitely put a person in a relaxed and comfortable state of mind.
Interior Designer: Ace Space Design Location: Lanai - Hillview Avenue Renovation Cost: $33,000
Meet Interior Designers. Get Quotes.
Get in touch with our listed renovation companies. They will provide you with a free non-obligatory estimate for any of the Renovation Packages included in their services.