6 Hacks that make IKEA Products Look Expensive and Sandi-boutique!
As much as homeowners are in love with IKEA - the mecca of affordable furnishing - and its famous Swedish meatballs, there's no denying the brand's products are associated with inexpensively made.
Inexpensively made means cheap. Cheap is somewhat associated with cheapskate. Being a cheapskate risks being labelled as "boh-class" a.k.a no-class. Therefore, ironically due to the "Cheap" factor, there are also homeowners who refrain themselves from purchasing IKEA products.
Nevertheless, the good news is that there are many ways to transform these from ubiquitous, mass market look to Sandi-boutique style. Yes, they are definitely Instagram worthy too after the makeover! In fact, making furniture look "atas" and expensive has become a legitimate noble obsession for IKEA hackers. Furthermore, their hacks are instrumental in helping homeowners keep their renovation costs within their budget!
So, do read on for a few of our favorite hacks to put a sleek looking tux on the IKEA furnishing!
Painting furniture is the most economical and fastest ways to transform boring cookie-cutter IKEA pieces into masterpieces which you can truly call your own.
Tip: Purchase your paint from ArtFriend or DIY stores such as Home-fix or SelfFix.
Image from craftynest
Image from poppytalk
Image from domino
If painting is not your cup of tea, you can consider wallpapering the IKEA furniture. This option is definitely fuss free and most importantly, you get a whole range of wallpaper designs to choose from!
Tip: Use leftover wallpapers and clear polycrylic protective finish over the wallpaper as protective topcoat. Wallpaper places where people least expected; such as insides or even sides of a drawer.
Image from foter
Image from chelseylifeanddesign
Up the wow factor of an IKEA table, chair or sofa by slimming the profile of the IKEA legs with a wood saw and use gold or silver paint over them.
Image from instagram
Image from brittanymakes
Tip: You can also swap out their dated legs with new shiny ones! In fact, Prettypegs which ships globally, sells fancy furniture legs designed specifically for IKEA furniture!
Image from Prettypegs
Being low cost, most IKEA dresser or drawers do not come with knobs. Hence, installing fancy looking knobs or long metallic bar pulls can dramatically upgrade the look of your IKEA cabinetry!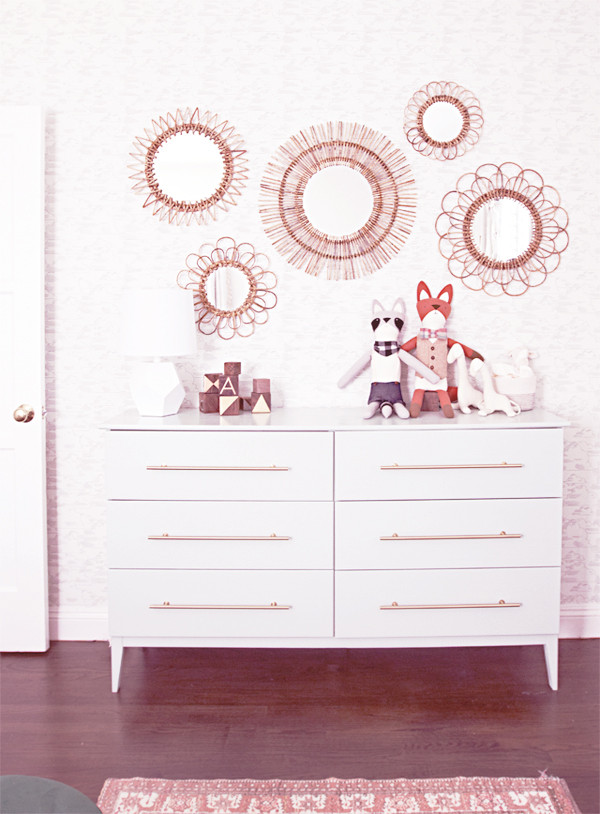 Image from sarahshermansamuel
Image from findingsilverpennies
Extra Tip: Superfront ships ready made handles AND legs specially designed for IKEA furniture to Singapore!
Images from Superfront
Furniture that makes use of marble is very expensive. However, a faux marble contact paper which is also known as self adhesive vinyl decal, makes it extremely easy for you to imitate such level of luxe with any piece of furniture!
Tip: You can consider ordering cheaper faux marble vinyl from Taobao!
Image from poppytalk
Image from huntedinterior
A vintage rope, brass corner plates and brass fabric nails will make any lackluster IKEA products irresistibly chic and elegant!
Image from homedit
Image from littlegreennotebook
Image from hikeahackers
There you have it! 6 IKEA hacks that will make your IKEA purchases from bland.... to bespoke and expensive-looking without breaking your bank!
Do like and share this post if you find it useful! :)
Icon images from freepik
Meet Interior Designers. Get Quotes.
Get in touch with our listed renovation companies. They will provide you with a free non-obligatory estimate for any of the Renovation Packages included in their services.