5 Not-So-Common Surface Materials to Consider
Subway tiles, CraftStone walls and vinyl flooring may be practical and easily obtainable, but if you're looking to add a unique touch to the surfaces of your home, these not-so-common surface materials are the ones to consider.
Copper
To add a little shine and visual depth, consider copper. If your home feels too cold or stark, copper is a great accent choice as it helps to warm things up thanks to its reddish brown hue. Glossy, polished copper surfaces add a modern touch, while burnished copper surfaces add a dark, more rustic mood to a space.
Walls and the entrances to the private spaces are clad in copper sheets, with the uneven sheen lending a unique luxe quality to the space.
Design: Produce
Copper, when not paired with other alloys, is a material that will develop a green-ish patina over time through an oxidation process. To some, it's an eyesore; to others, it can be a beautiful, natural ageing process.
How quickly it develops this patina is very much dependent on your location and where you place the copper surface. For instance, a copper kitchen backsplash that is always exposed to water will develop a patina faster than copper surfaces placed in a non-wet zone in the home.
The kitchen backsplash is covered in a copper sheet, matching with the copper hardware of the kitchen cabinets.
Design: Chapter One
If you prefer to maintain the shine constantly, get copper sheets that are mixed in with other metals e.g. tin or stainless steel, or seal your copper sheet periodically to make sure it keeps off the oxidation process. Copper is easily scratched, and while the kinks can add to its charm, it's not for everyone. Avoid using abrasive brushes or chemicals on the surface when cleaning it if you want it in a pristine condition.
Cork
This natural, renewable material is best known for its association with bottle-stoppers and the noticeboard, but it can also be used as a surface material in your interior design. Homes in Singapore have used it mostly as an alternative wall cladding material, but we have also seen it work as flooring or used as a countertop material. Ikea currently has a range of wardrobes that come with doors made from cork.
Cork is one surface material that works best if you're going for a rustic, farmhouse look.
Design: The 80's Studio
While it's an obvious choice if you're going for a rustic, farmhouse look, cork's wide range of styles—you can have it dyed to a range of colours or sealed for a different tactile quality—mean it can fit in with a number of different interior design looks.
One of the main benefits of cork is that it is an excellent noise reducer and sound absorber. Look for this surface material if you're hoping to keep out noise from a room that needs peace and quiet like a home office, or if you're looking to contain noise in a room e.g. a music room.
A cork wall can serve as a giant noticeboard.
Design: Linear Space Concepts
Cork is also incredibly durable and can be used in high traffic areas of the home. You can also use it in wet zones like the kitchen or bathroom, thanks to its water-repellent properties. In spite of this, we recommend using a sealant to protect it against excessive moisture.
Shou Sugi Ban Wood
Shou sugi ban is a traditional Japanese method of charring wood to preserve it, which results in wood pieces that feature a crackled skin in a charcoal black hue. In this technique, wood is burnt (usually scorched with a torch) until it is charred, then cleaned and washed to remove soot and debris, and finally coated with natural oil.
Wood planks undergoing shou sugi ban treatment.
Image courtesy of Smoke by Shou Sugi Ban Gallery
Japanese cedar wood is traditionally used as it can take this form of high heat. If using other varieties of wood, take caution as it might lead the wood to lose its hardiness. It will also not result in the same dramatic deep black colour commonly associated with shou sugi ban. For other wood types, Architectural Digest recommends varieties like pine, hemlock, maple or oak.
The method is as much for aesthetic reasons as it is for practical purposes. Shou sugi ban alters the texture of the wood, while also shrinking it to make it denser, and therefore more durable, and also more resistant to water, pests and rot.
We have yet to see a home here that uses wood charred by the shou sugi ban method, but Tippling Bar in Singapore features wainscoting and ceiling panels made from reclaimed shipping wood pallets that were treated with shou sugi ban. Potentially, we think it will work fabulously on cabinet fronts or as feature walls.
The wainscoting on the walls and the ceiling panels are clad in wood that underwent the shou sugi ban technique.
Image courtesy of Tippling Club. Design: greyMatters
If you're keen to use shou sugi ban wood in your own interiors, we recommend getting in touch with a skilled carpenter to help you along. The craftsmen over at Roger&Sons and Tombalek have done similar projects using the shou sugi ban technique. Contact them for more details. If you're looking for shou sugi ban wood furniture, check out furniture store Smoke By Shou Sugi Ban Gallery at Opal Crescent.
Corrugated Metal
To add an industrial look to your home, corrugated metal sheets are your best bet to recreate the utilitarian warehouse vibe. They were created a long, long time ago—think 1800s—and were typically found on roofs, but are now seen in a lot of interior design decorating too.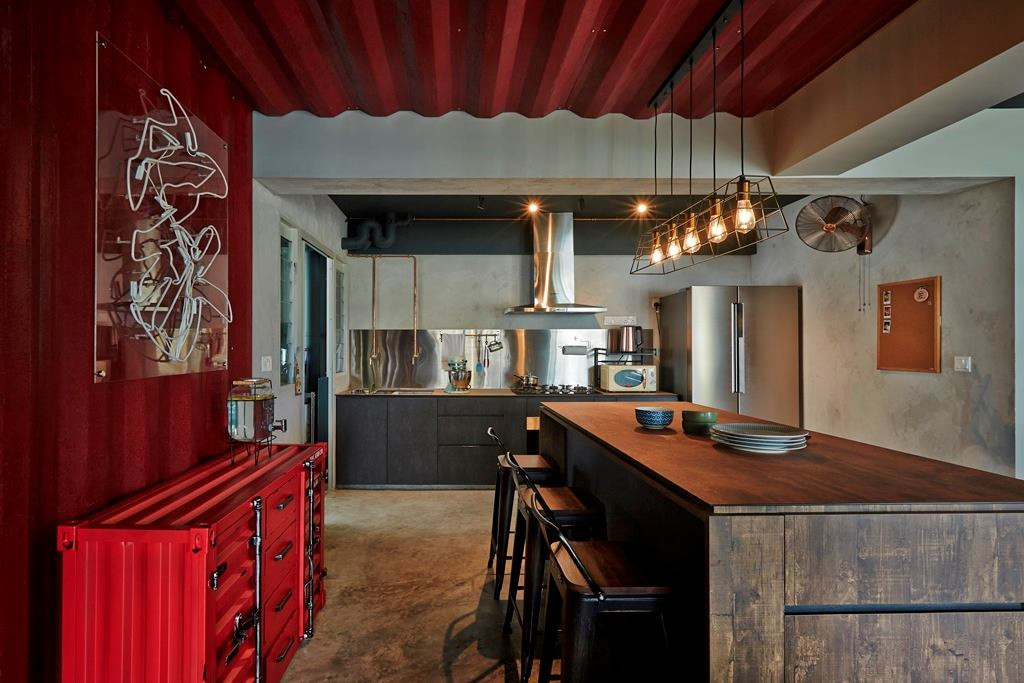 Painted corrugated metal sheets serve as a visual focal point in the dry kitchen/dining area.
Design: Fuse Concept
Durable (because of its ridges), lightweight and corrosion resistant, they make a wonderful addition as a feature wall, cladding for the side of counters, insets for doors or even as a headboard. To make things a little greener, source (or ask your interior designer) for reclaimed metal sheets.
Here, they form the living room TV wall.
Design: Linear Space Concepts
Corrugated metal sheets are typically made from galvanised steel, which features an extra layer of zinc to protect the steel metal from rusting. They can also be made from other metals like iron. While corrugated metal sheets are rust resistant, they are not completely rustproof as the zinc coating can wear off over time, exposing the inner metal to the elements. To make them even more longer lasting, you can spray-paint the metal sheets with anti-corrosive paint.
Terrazzo
Terrazzo, Italian for terrace, is making a major comeback in interior design, and in a big way too. This beautiful surface material is seen on anything from backsplashes and countertops to flooring and walls. Once a low-cost flooring option for many homes in Singapore in the 70s and 80s, it is now a trendy must-have if you want to set your home apart.
Bathroom wall clad in terrazzo.
Design: Free Space Intent
Made from fragments of materials like granite, marble, glass and quartz, terrazzo is formed by mixing these fragments with concrete or epoxy resin and then poured onsite in a labour-intensive process. Using an epoxy resin base is faster and simple and results in a terrazzo surface that is more lightweight when compared with those made from a concrete base. This makes them more suitable for a wider range of applications. The terrazzo look can also be easily achieved through pre-cast terrazzo tiles, which are also a cheaper option as it's easier to install.
Terrazzo is used on the backsplash and kitchen counters.
Design: The Scientist
If you're recreating the nostalgic look or prefer a more timeless design, choose a terrazzo pattern that has smaller flecks and a more muted, monotone palette. For a more modern update, opt for a terrazzo pattern that has larger fragments and in bolder, more colourful hues.
One of the best things about this surface material is that it's very durable. Because of its busy patterns, it also makes scratches hard to notice, making it a good option if you're looking at using it on a hardworking surface like the kitchen countertop. Terrazzo is often applied with a sealant on top to ensure that it doesn't stain easily and that it is waterproof.

Meet Interior Designers. Get Quotes.
Get in touch with our listed renovation companies. They will provide you with a free non-obligatory estimate for any of the Renovation Packages included in their services.