5 Insta-Worthy Themed Renovation Designs to Learn From!
#1. Minimalist Simplicity at its best
The mention of the word "minimalist" will conjure up images of clean, spruced up and clutter-free sparse spaces. A minimalist interior style is mainly defined by order and simplicity; a design that focuses on stripping things down to their essentials, ditching the excess to achieve that widely sought after practical, yet sophisticated and sleek interior look. From Muji-like vibes to the monochromatic simpleness, minimalism is a true classic which never goes out of style.
Image from Trouva
How can you achieve this look?
Although simple is synonymous with minimalist design, a minimalist home interior also resonates with the principles of 'universal design'. In short, while getting rid of unnecessary details and features is the goal, the end state should still be highly adaptable to the family's changing needs. The key features to nail this look include using only high-quality furniture which is timeless and choosing neutral shades such as white, cream, grey, browns with pastel blue, green or even pink as accents to create a calm, Zen-like ambience. Ensuring that there is plenty of natural lighting helps to keep the interiors bright and airy. Remember to build plenty of storage to keep the clutter at bay as a de-cluttered interior is vital for serenity and calm.
Design: The Minimalist Society
#2. Santorini An amazing getaway
Santorini is Greece's most beautiful island and is famous for their clear blue sky, vast Aegean Sea and astonishing architecture. Imagine an island of whitewashed houses with its signature blue doors and arched windows. The houses are all in white colour due to the hot summers since white reflects dazzling light and heat which spares the inhabitants from the scorching heat. In addition, the houses of Santorini are categorized by their distinctive structure and style; the arches and domes are used expansively in their design.
Image from Fakulteti
How can you achieve this look?
Since the trademark of Santorini is defined by the white and blue colours; use plenty of whitewashed with a splash of azure blue colours in your home renovation design. In addition, choose brick, sandblasted concrete and light coloured wood as your main material choice. Lastly, instead of domes, use rounded edges in your renovation design to play up the Santorini's unique architectural features.
Design: Edge Interior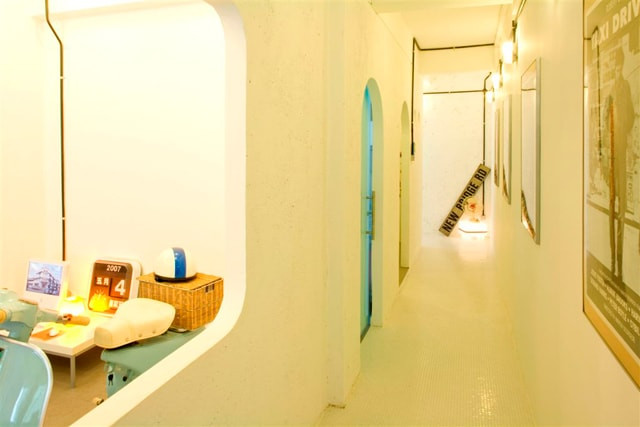 Design: Free Space Intent
#3. City A place that never sleeps
If you prefer the hustle, bustle and excitement of the big city over the sleepy remote island, you can consider a Manhattan or New York-themed home renovation. A city is characterized by the millions of tiny colourful lights that define every skyscraper and every office block at night, which makes the entire City appear as it is constantly awake, working; a city that never sleeps!
Image from Thumbpress
How can you achieve this look?
Be bold, bright and busy. Clean white walls help to add the contrast of the stark black studio lights, the large photo canvas which depicts the busy city at night and the navy blue furnishing which peppered throughout the apartment. Bold elements such as a red brick wall, colourful photographs and a vintage analogue clock help to complete the look.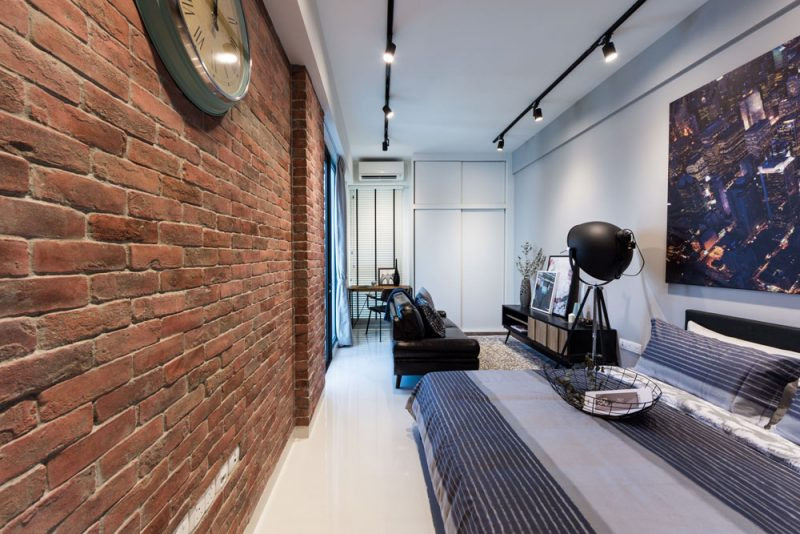 Design: Distinctidentity
#4. Industrial Industrial chic for the bold
Industrial chic home interiors have gained a huge following due to its unconventional yet functional approach to home design. Its origins can be traced back to the late 2000s, where the old factories and industrial spaces have been ingeniously converted into homes. In recent years, even shipping containers have also been used for homes too!
Image from Revitalization
How can you achieve this look?
By taking cues from the old buildings, factories and shipping containers, the first step in achieving the much coveted industrial look is to focus on the materials used. These include using wood, metal, concrete and bricks in their original structural forms, which means embracing the beauty of the building system in the form of exposed pipes and wiring, exposed beams, raw concrete flooring and ceilings. This is because such elements inject a "warehouse" feel and the use of raw materials helps the illusion of an unfinished feel. Furthermore, fixtures such as wrought iron pendant lights, hanging wires and a natural colour palette which consist of a mixture of greys browns and rustic colours are commonly used to enhance such an industrial vibe.
Design: Ace Space Design
Design: The Design Abode


Design: Aart boxx interior
#5. Retro A blast from the past
If you love the nostalgic style trends from the past from the 1960's to the 80's, retro and vintage interior styles would suit you the best! These interior decorating styles are usually characterized by a lively feel, punctuated with bright and sometimes neon colors.
Image from theventnorwintergardens
How can you achieve this look?
Prints, materials, fabrics and furniture which are popular during the during these eras are necessary to nail the retro look. Think checkered or floral patterns, colorful prints, elaborate cornice false ceiling, concrete screed, mosaic or terrazzo flooring which are trademarks of a particular era. Colors like avocado green, mustard yellow with mixes of bright orange, red and indigo blue are also the easiest way to inject a retro feel instantly!
Design: The Mind Design
Design: The Scientist
Design: Free Space Intent
---
Do you love what you've seen? Contact us for a non-obligated consultation now.
Meet Interior Designers. Get Quotes.
Get in touch with our listed renovation companies. They will provide you with a free non-obligatory estimate for any of the Renovation Packages included in their services.