A Whole New Level: 30 Raised Platform Designs for Your Home
You don't need a reason to have platforms in your home. Do it right and they can look super stylish, taking your home to a whole new level (quite literally). But platforms can be functional too. They can help divide up spaces, add dimension, turn your room multifunctional, define areas in an open plan, and they can be used to eke out extra storage. Yep, they are practical and pretty.
If you're looking for ideas, we've pulled together a few looks from different homes in Singapore. From petite step-ups and quirky nooks to extra-tall podiums and storage stadiums, these raised platform ideas will help you reach loftier heights.
1. There's practically a whole wardrobe under the bed. The pull-out drawers mean you can have deeper storage space without it being too difficult to reach for your things.
Design: Authors • Interior & Styling
2. Storage cubbies surround this platform bed. Finger drawer pulls mean there are no knobs or handles jutting out.
Design: The Scientist
3. Instead of going for a conventional storage feature wall in this living room, the designer chose platform storage in order to maximise the narrow confines. The elevation also creates a more dramatic visual impact in this HDB flat.
Design: Crescendo Interior & Lifestyle

4. Here's one for the sommeliers and wine aficionados: a platform wine storage!
Design: Distinctidentity
5. If you're opting for a traditional Japanese or Muji-themed home, platforms are practically a requisite. We love how this Japanese-style lounge area is defined by the raised height and a pop-up tea table.
Design: Dots 'n' Tots
6. Another Japanese style home with a raised platform. This time it forms an entire room, which is used as a lounging area and home office. The platform is made up of storage cubbies, one of which doubles as a low floor table.
Design: Distinctidentity
7. Under-lit by warm LED lights, this slightly raised platform is home to a bar counter/workstation. The curved form creates visual interest in this communal space, and helps to soften the lines and edges in this home.
Design: Edge Interior
8. This platform by the window pulls out into a little daybed. Perfect for an afternoon snooze or an extra bed when you have overnight guests.
Design: Story of Us
9. The sides of this step-up platform bed are used as a storage space for bed linens. The inner drawer lights provide plenty of illumination.
Design: I-Bridge Design
10. Strips of LED lights underneath the platform gives the appearance of a floating bed. It is dreamy, romantic and elegant, the perfect cosy bedroom milieu.
Design: Linear Space Concepts
11. Here's another bedroom with under-platform lighting. The platform's shape mirrors the ceiling design to create a dramatic visual symmetry.
Design: Neu Konceptz
12. The entire bedroom in this condominium is set on an elevated height, so that the homeowners could draw nearer to the gorgeous view and daylight coming from the windows.
Design: The Scientist
13. Not enough room to store your entire shoe collection? Create a platform in the living room (which is usually just next to the entrance foyer) to keep your sneakers, heels and slippers out of sight.
Design: Project B Studio
14. This platform bed serves a few functions: it's a bookshelf, a bed frame and a study desk all at once! A raised divider keeps the workspace separate from the sleeping area.
Design: Story of Us
15. Instead of having the bed on the platform, the study area is set on the elevated deck instead. The bed is a pull-out so as to save more space in this small room.
Design: The Interior Design Enterprise
16. To define the dining area more clearly in this open living and dining room, a platform was used to demarcate the eating area from the living quarters.
Design: Luxespace
17. The steps in this bathroom lead up to a raised bathtub and shower zone, creating the ambience of a luxurious spa sanctuary.
Design: Neu Konceptz
18. Three different zones—workspace, walk-in wardrobe and bedroom—are defined clearly in this open space, thanks to the use of different floor heights.
Design: UNO Interior
19. Decorated with floor cushions, the raised podium situated between the living room and the rest of the home, is set aside as a calming space perfect for indulging in Japanese tea.
Design: Weiken.com
20. Because the homeowners wanted a designated cosy and casual nook to laze and lounge about in the living room, a platform was created to separate it from the more formal spaces.
Design: DB Studio
21. A low sofa gets the boost it needs with an elevated platform.
Design: Distinctidentity
22. Platforms can be used in lieu of bed frames. It often helps to tie the look in a bedroom together as the laminates used on the deck can match the ones on the wardrobe, creating a neater and more uniform appearance.
Design: Kuro+

23. Covered in a wood patterned tiles, the raised deck in this dining area stands out as a feature in this neutral-themed space.
Design: The Scientist
24. A platform alcove in this walk-in wardrobe provides extra storage for accessories and sheets.
Design: Distinctidentity
25. The platform helps to better delineate the walk-in wardrobe from the sleeping zone. It creates privacy for both spaces, and helps to create a more exclusive ambience for the closet area.
Design: UNO Interior
26. This enlarged bedroom comes with a cosy lounge space that is defined by a raised platform. Privacy is created because of the difference in height as well as the clear glass divider.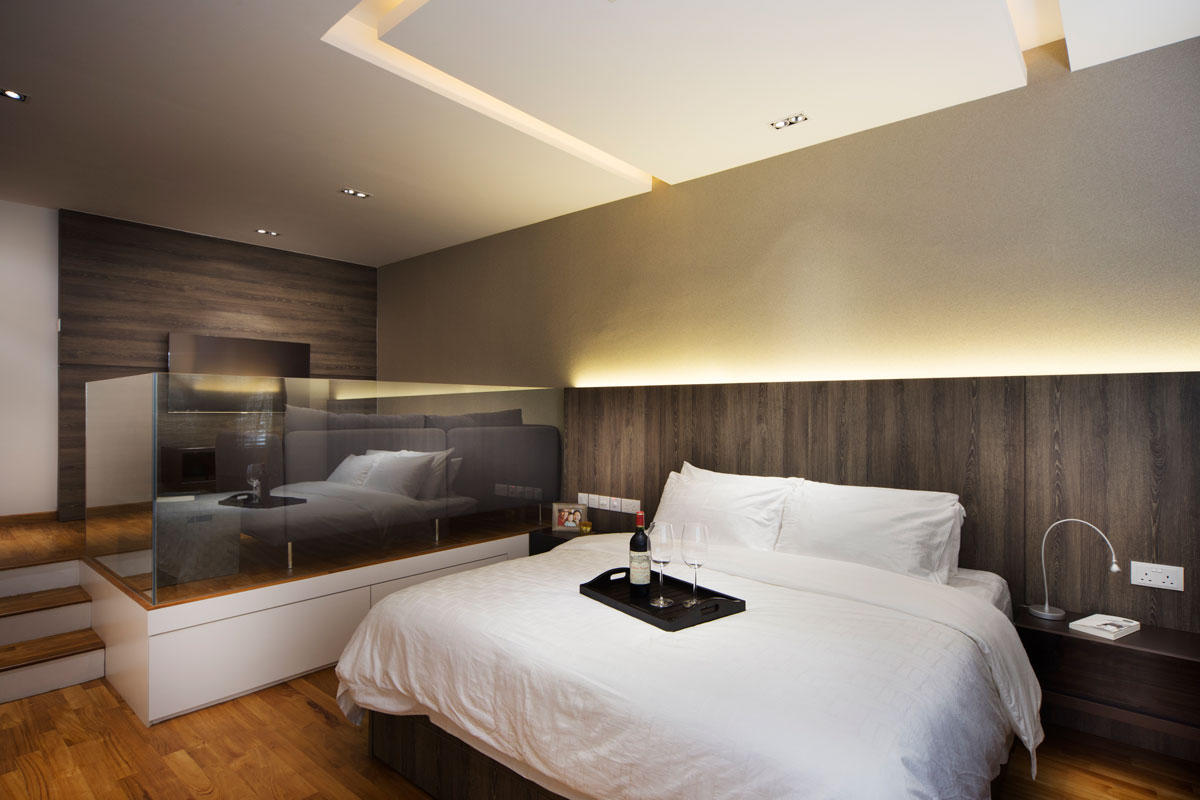 Design: Neu Konceptz
27. Squeezing two kids in a single bedroom? Consider placing their beds in different heights. This helps to provide more privacy, giving each child their own space.
Design: Distinctidentity
28. A cosy corner in the living room was set aside using a raised platform by the window. It functions as an extended bay window, perfect for reading, relaxing and lounging the day away.
Design: White Corporate
29. This bi-level space features the living room alongside the bedroom. The platform goes around the living space, creating a defined border.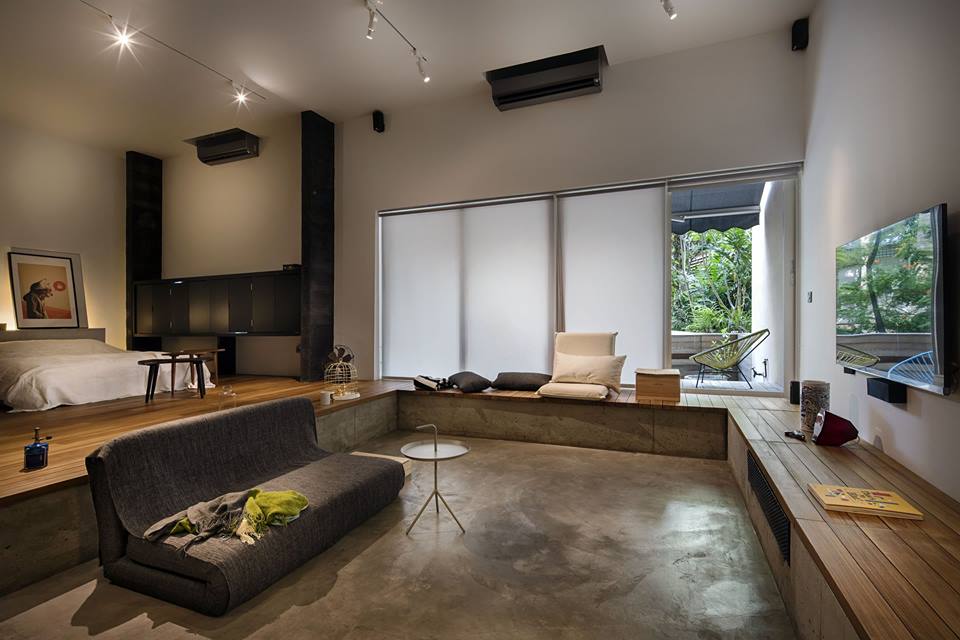 Design: In-Expat
30. The platform holds two beds as well as a low desk, making the transition from sleep to study a lot easier.
Design: Distinctidentity
Are platforms for you or do you prefer living on flat ground? Let us know in the comments!
---

Do you love what you've seen? Contact us for a non-obligated consultation now.
Meet Interior Designers. Get Quotes.
Get in touch with our listed renovation companies. They will provide you with a free non-obligatory estimate for any of the Renovation Packages included in their services.