15 Concise Layout Designs for Alkaff Oasis Bidadari
Image credit: HDB
Situated at the junction between Bidadari Park Drive and Alkaff Crescent, Alkaff Oasis is designed to create an oasis, where stretches of green spaces fuse landscape to the blocks and connect nature to people. This project boasts a total of 1,594 units offering 2-room Flexi, 3, 4, 5-room, and 3Gen Flats. Ready to get some renovation tips? Let's go!
1. An option that has grown to be accepted by many households is the open concept kitchen. Interior Designer:
Ace Space Design
---
2. Because the option of getting a landed property is not available to everybody, try having a multi-functional kitchen island like this if you want to get a feel of it. Interior Designer:
AD. I. WRKS
---
3. Black and white themes remain a popular choice amongst homeowners these days. With matching furniture and appliances, you can easily get a minimalist, condo-like design. Interior Designer:
Collective Designs
---
4. A restaurant / cafe style like the one shown here is good for homeowners who have a lot of stuff to manage. Extra cabinets can be created near the dining area for storage purposes. This layout is also helpful for homes with smaller kitchens because additional cabinets can be added to put away crockery and dining ware. Interior Designer:
Hap Design
---
5. This multi-purpose dining table ensures you can enjoy your favourite television shows along with a scrumptious meal as and when you please. Interior Designer:
2nd Phase Design
---
6. We're all familiar with the galley kitchen layout. Here are some samples of colours, textures, and materials you can use. Interior Designer:
Urban Habitat Design
,
9 Creation
---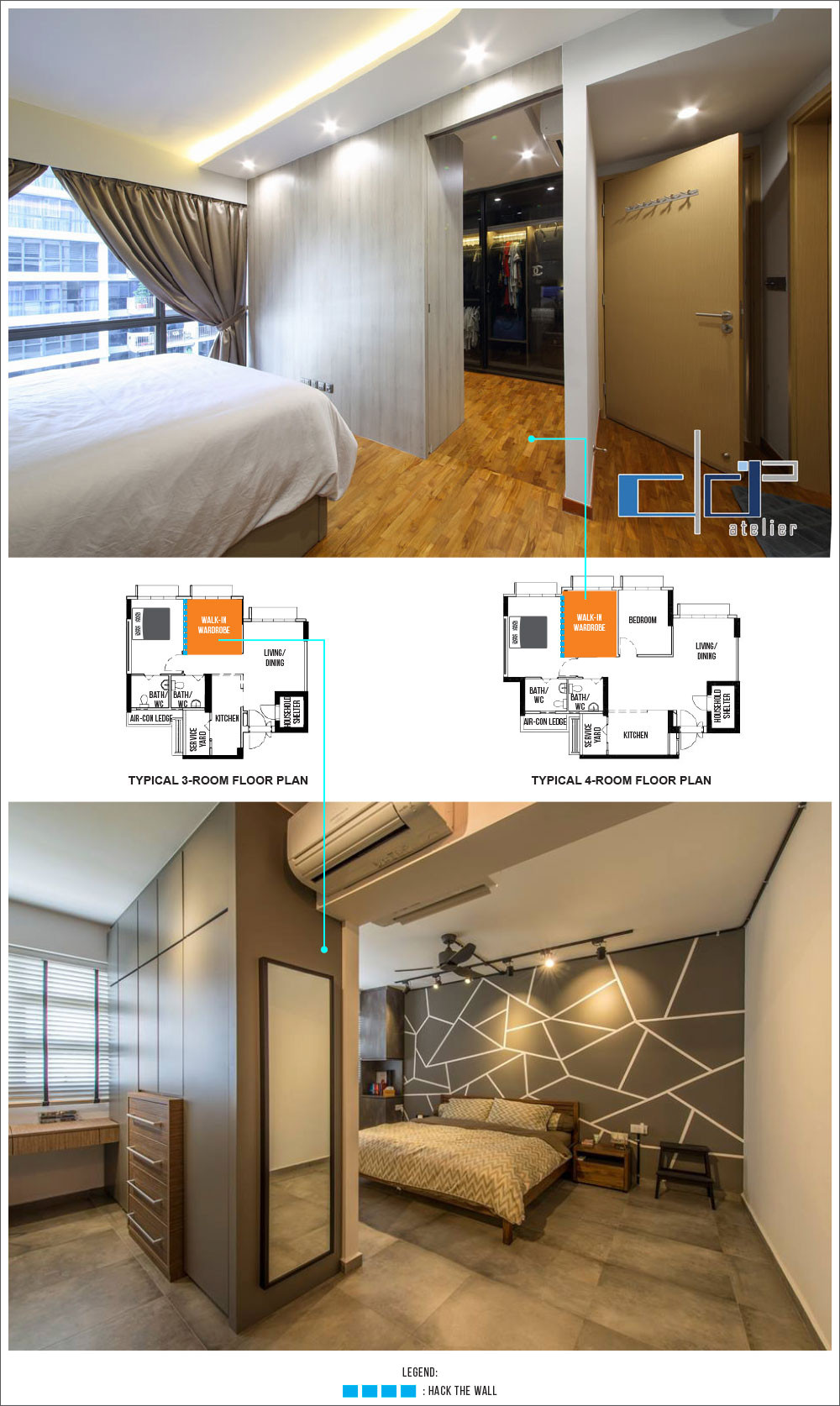 7. Homeowners who love built-in wardrobes can choose to hack the bedroom wall to accommodate one. Interior Designer:
Dap Atelier
,
Living Gaia
---
8. Cabinets in a bathroom are a common sight. How about adding a few racks to hold some plants? Small potted greens can greatly enhance the aesthetics of your bathroom. You can also maximise space by adding hanger bars above the toilet bowl for your towels and other necessities. Interior Designer:
DB Studio
---
9. The study can be made full use of if you add a shelf for books and have elongated desks like the one shown above. Interior Designer:
Habitat One Concepts
---
10. A study room / play area / etc. can be created out of a small corner if space allows. Interior Designer:
Inspire ID Group
---
11. Instead of having a wall dividing the living and study areas, homeowners can consider having a divider like this, which is way more flexible. The study area can be removed if you require a bigger living area. This divider also makes the whole room look bigger. Interior Designer:
Space Sense Studio
---
12. Don't be afraid to add a mini work desk or additional wardrobes in the bedroom to fully utilise all the space. Interior Designer:
Idees Interior Design
---
13. Do you wish to have a bigger kitchen? No problem. Simply extend your kitchen to the living or dining area like so. Interior Designer:
Lux Design
---
14. We could all use additional storage space, especially in the study. Interior Designer:
Sky Creation Design
---
15. How could would it be if you had a pool table instead of a boring study room at home? Interior Designer:
Space Concepts Design
---
Disclaimer: All dimensions are estimates only and may not be exact measurements. Floor plans from HDB.
Meet Interior Designers. Get Quotes.
Get in touch with our listed renovation companies. They will provide you with a free non-obligatory estimate for any of the Renovation Packages included in their services.