10 Open Concept Walk-in Wardrobe Ideas for Your HDB
A walk-in wardrobe in your HDB might be an indulgence in your square footage-starved space, but there are ways to have your cake and eat it too. One of our favourite solutions to incorporate this luxury item in your HDB? Go for an open concept walk-in wardrobe. This often creates a lighter, airier feel in your space and helps to lift the visual bulk. Bonus if you have pretty clothes to show for it. Of course, the only gripe is that you'll always need to keep things neat and tidy, lest you fall into clutter territory. But that's a small price to pay for living the high life. 1. An extra room was sacrificed in order to have an adjoining walk-in wardrobe with the master bedroom. The display shelf, which is used to store fashion accessories, can be concealed behind a sliding glass panel to keep out dust.
Design: Adroit Interior Design 2. Don't want to sacrifice a bedroom? Opt for this solution, where a corner of the room was set aside to use as a walk-in wardrobe. It is enclosed behind tinted glass panels, giving some privacy while still creating an openness. The minimalist closet is made from just a couple of steel bars, further reducing the visual heft. Closed drawers on the floor hide intimates.
Design: Dyel Design 3. Brandishing your wardrobe for all to see may be a bold move on the homeowner's part, but it turned out to be a right design decision seeing as the vibrant hues of her clothes, seen from the see-through walk-in wardrobe, gave an added lift to the overall backdrop of the loft style in this HDB flat.
Design: Linear Space Concepts 4. This open concept walk-in wardrobe sits just outside the master en-suite in this home, which makes a lot of practical sense, seeing as the homeowner's morning routine starts in the bathroom before he decides what to wear for the day. The openness of the wardrobe not only creates a visual lightness, it also helps make decision-making that much easier on bleary mornings.
Design: DISTINCTidENTITY 5. A thin plaster wall separates the open concept walk-in wardrobe from the bedroom without taking up too much floor estate. The wall also functions as a bedhead as well as a place to put up the spotlights, which help to illuminate the closet area. Open shelves and cubbies coupled with closed drawers form the wardrobe. In order to elevate the visual bulk, the drawers sit on raised legs, lending a lighter and airier feel. [gallery columns="2" link="none" size="full" ids="59426,59427"] Design: The Minimalist Society 6. Similarly enclosed behind glass panels, the open concept walk-in wardrobe in this BTO sits where the original master bedroom was located. The bedroom adjoins the closet and access is via sliding glass panels as well as through the door of the original master bedroom. Several walls were hacked to create this unique layout.
Design: Zenith Arc 7. The wardrobe sits at the foot of the bed, forming a see-through barrier between the sleeping area and the short walkway to the en suite. Made from black-framed glass panels, the closet's design ensures that light can still pass through both zones, preventing either side from appearing too dark.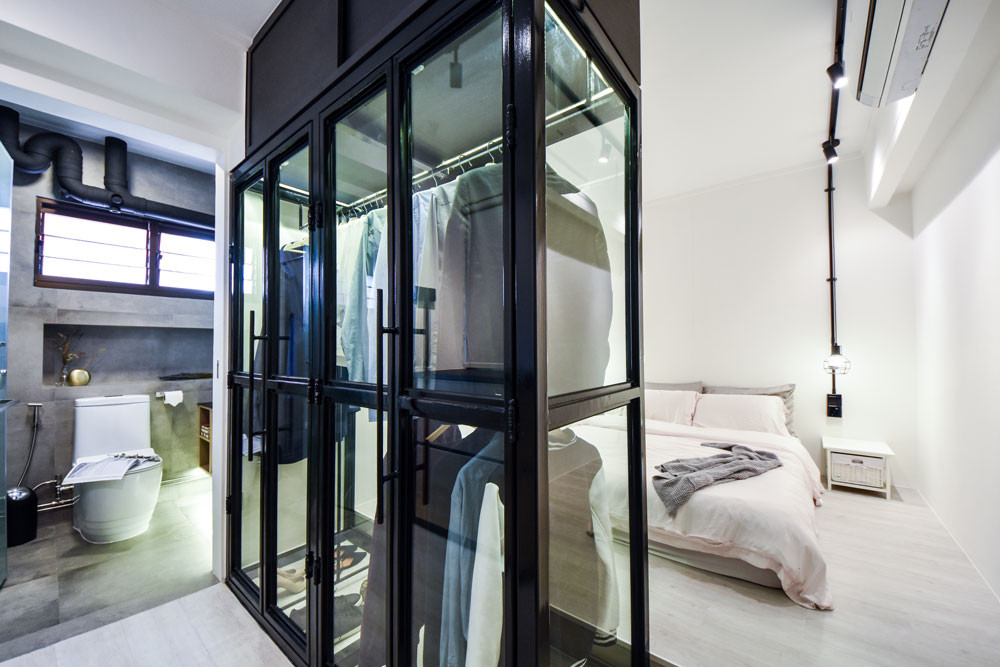 Design: DISTINCTidENTITY 8. A shared walk-in wardrobe space is an option if you can't afford a dedicated closet room. In this space, the closet shares the same area as the home office. It comes with see-through glass doors, which help to keep out the dust while still giving a sense of openness. A wall-mounted dressing table mirror the workstation on the other wall.
Design: Design NEU 9. Here's another walk-in wardrobe that shares a space with the study area. The open concept wardrobe, enclosed behind black-framed glass panels, is sequestered to a corner of the room, which helps to reduce the footprint it takes up.
Design: Design NEU 10. Mirrored cabinet doors of this open wardrobe reflect the sleeping area, lending additional visual depth to the closet space. A frameless glass panel is almost invisible from view as it divides both the zones.
Design: ARK-hitecture Prefer not to hack away walls in your HDB? Read our guide to the 8 Ways You Can Squeeze a Walk-in Wardrobe in your HDB flat Without Hacking any Walls.
---

Do you love what you've seen? Contact us for a non-obligated consultation now.
Meet Interior Designers. Get Quotes.
Get in touch with our listed renovation companies. They will provide you with a free non-obligatory estimate for any of the Renovation Packages included in their services.