10 Amazing Ways to Do Up the TV Feature Wall in your Living Room
What is a feature wall?
A feature wall is an accent or statement wall whose primary function is to break up the monotonous pattern of the walls by becoming the main focal point of a room. It is also used to highlight a particular decorative element aesthetically or draw attention away from the undesirable aspects of a room. Finding the right wall to accent in the room is important because choosing the wrong all will throw off the balance and design harmony of the room.
TV feature wall
A TV feature wall is where the TV is hung, where the design is centered around the needs of a TV. For instance, storage is usually incorporated in the TV feature wall for placement of the media-box and media player.
.............
3 tips on the TV placement

1. Sunlight Avoid positioning the TV where there is direct sunlight. This is because the screen reflection from the sun will make the TV images hard to watch.

2. Air-conditioner

Avoid positioning the TV directly under the Air-conditioner. This is to prevent the water from Air-conditioner from dripping onto TV when there are leaks. In addition, it is also inconvenient for the Air-Con servicing to be carried out when the TV is in the way.

3. Walls

If you intend to hang the TV onto the wall, you need to check whether the walls are hollow and whether the wall can withstand the weight of the TV.
.............
Here is a list of 10 amazing TV feature wall design ideas to get you inspired!
#1. Getting Creative with Concrete
A smooth, cement screed TV feature wall is a popular choice among homeowners for its beauty lies in its simplicity and versatility in injecting an edgy, grungy-chic vibe to an otherwise serious looking room. In this design, a matching, suspended concrete TV console bench completes this industrial look perfectly.
Design: The Roomakers
#2. Going Geometric
When it comes to feature walls, geometric shapes inject a fresh, contemporary look in the living room. You can up the glam factor by adding backlighting at the sides and at the bottom of the suspended TV console.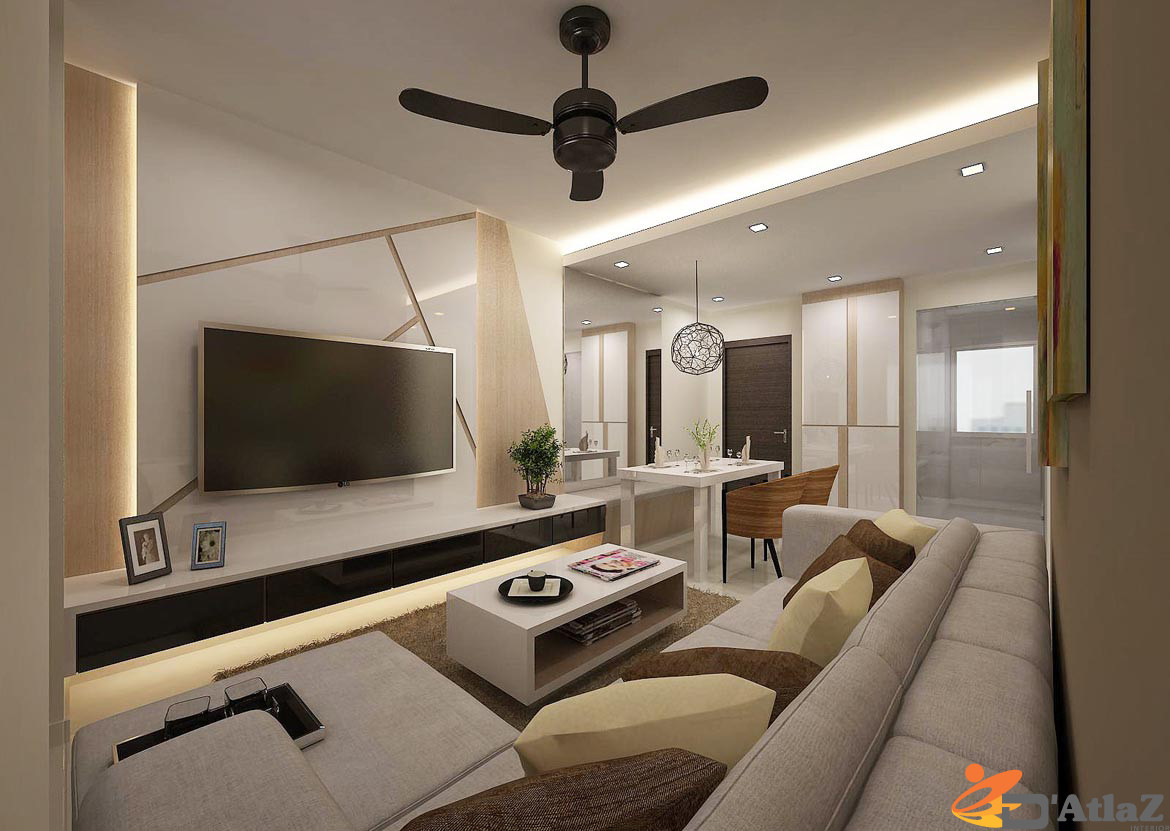 Design: D'Atlaz Interior
#3. Balance Style with Functionality
A multi-functional TV feature wall offers additional functions and storage space. In this design, the TV feature wall also doubles up as a personal computer desktop at its side. Such designs are great for compact spaces since aside from creating a focal point in the room, they are extremely practical too!
Design: DB Studio
#4. As a partition
The TV feature wall can pull double duty as a stylish partition and a divider between the living room space and the kitchen area.
Design: Ehka Studio
#5. Blend It In!
If you already have a design theme set aside for the living room, you can simply blend the theme in the TV feature wall. This can be done by incorporating the TV feature wall with the cabinet or other forms of carpentry.
Design: Design & Renovation by 9 Degree
#6. Flaunt your style un-bashfully!
Instead of blending the TV feature wall design with your existing interior theme, you should consider using it to flaunt your personality and unique sense of style! In fact, the living room is the best place to capture your guests' imagination, change their spatial perception and leave a deep, lasting impression with your individualistic concept.
#7. Opting for Industrial Pop Art!
Think vibrant, colourful and clashing colours, neon lights and posters which are meshed up with unexpected materials such as concrete, rivets and corrugated metal sheets to reflect an unorthodox effervescent pop culture with a strong industrial undertone. Such a TV feature wall is anything but conventional.
Design: Linear Space Concepts
#8. Create an Added Visual Dimension
Create a statement-making TV feature wall by making full use of the ceiling. By extending your TV feature wall all the way up to the ceiling creates an added dimension and visual interest. This makes the living room appear wider and more spacious!
Design: In Interior Design
#9. Make it Swivel!
If your TV feature wall sits in between the living room and your bedroom, you can consider making the TV feature flexible by making it pivot around the swivel. This allows you to enjoy your favourite TV programs from both rooms!
Image from Pinterest
#10. Conceal it!
If you prefer a seamless look and wants to hide the ugly big black box so that it does not blemish or overwhelm your home interior design scheme, you should opt to conceal your TV completely. One of the most effective ways to keep your TV away from sight is by using large sliding art posters.
Image from Katrina Lee Chambers
---

Do you love what you've seen? Contact us for a non-obligated consultation now.
Meet Interior Designers. Get Quotes.
Get in touch with our listed renovation companies. They will provide you with a free non-obligatory estimate for any of the Renovation Packages included in their services.