We Review Juicers and Blenders to See Which One You Should Buy
It's more than halfway through the year, and if you are wondering where all that time has gone and what had happened to all those New Year's resolutions to eat more nutritiously and stay healthy, you aren't alone.
Still, it's never too late to jump into a health kick, starting with ingesting more fruits and vegetables. And while we advocate eating them in their natural state most times, sometimes it's just easier to turn them into juice or to blend them into a smoothie, especially if you are short on time in the week. This brings us to this question: Should you get a juicer or a blender?
This article will help you decide by looking at both appliances and seeing which is easier to use and maintain. We also tried out several juicers and blenders ourselves, from brands such as Bosch, Hurom, Tefal and WMF, to test out the theories in real life. If you prefer to watch our video review, check that out at the end of the article.
Not made equal
Understanding the difference between how a juicer and blender works is crucial so you don't get any false expectations: the former extracts the liquids from fruits and vegetables to create juice, while the latter blends everything, so you not only get the juice but also all the fibres from the fruits and vegetables that are blended.
There are two main types of juicers out there: slow juicers (aka cold-pressed juicers, masticating juicers) and centrifugal juicers (conventional fast juicers). We go in-depth on both types here, but here's a quick summary: slow juicers, while generally more expensive, are becoming the more popular type of juicers out there and are believed to offer more superior quality of juice, primarily because of the way they extract juice.
Slow juicers press and grind down the fruits and vegetables that pass through them, while fruits and vegetables in centrifugal fast juicers are spun at high speeds to extract juice. Because of how slow juicers work, they are also better at extracting juice from leafy greens as compared to the conventional centrifugal juicers.
Slow juicers like this Hurom are better at extracting leafy greens compared with conventional centrifugal juicers.
Most blenders—save for handheld, immersion blenders—look and work the same way with a container to hold the ingredients and a main body where the motor is. Unlike juicers, which mostly only create juice, they are pretty multifunctional. Blenders not only make smoothies, but they can also blend soups, crush ice or churn out nut milk.
The WMF personal blender is smaller than a conventional full-sized blender and is great for smaller households.
The most common ones come in personal or conventional jar types, which are inexpensive and get the job done quickly. Newer forms of blenders include vacuum blenders that help to remove air before blending to minimise oxidation as well as cooking blenders that actually cook your blended ingredients within the appliance itself so you don't need to transfer them elsewhere to cook.
What and how we tested the juicers and blenders
We did our test with more common types of juicers and blenders, keeping to a mid-sized budget of between $100 to $1,000, and opting for models that are fuss-free, easier to work with and have space-saving qualities.
With these in mind, we tried out these two juicers: Hurom H310A Juicer and Tefal ZC420E Slow Juicer, and these two blenders: WMF Kitchenminis Smoothie-to-go personal blender and Bosch Blender VitaPower (MMB6141B).
Here's an overview of their specs:
We made a classic apple, orange and carrot juice/smoothie as well as a green juice/smoothie. As best as we can, we used similar ingredients with equal portions for both the blenders and juicers to keep things on a level playing field. Our ingredients comprise a range of hard fruits and vegetables (apple, carrot), fibrous ones like ginger and celery, soft fruits such as oranges as well as leafy greens like lettuce.
We weighed out the ingredients.
Recipes:
Juicer versus Blender
1. Ease of Use
The blenders were definitely easier to use than the slow juicers, with fewer components to fiddle around with. Even without relying on a manual, we could get both the blenders up and running in no time.
Hurom Slow Juicer: For a slow juicer, there aren't a lot of components to it, but it still required a bit of fiddling around before we got the hang of how everything fitted together. There are essentially three parts to it: the feeding chute, the container where the juicing screw is located, as well as the main motor body. Design-wise, we liked how modern it looks and also how slim and compact it is, which is great if you are short on cabinet or countertop space.
Hurom Slow Juicer
The feeding chute is self-feeding, where you will place all your ingredients in the chute before getting it to start. This means the juicing process is relatively hands-free afterwards.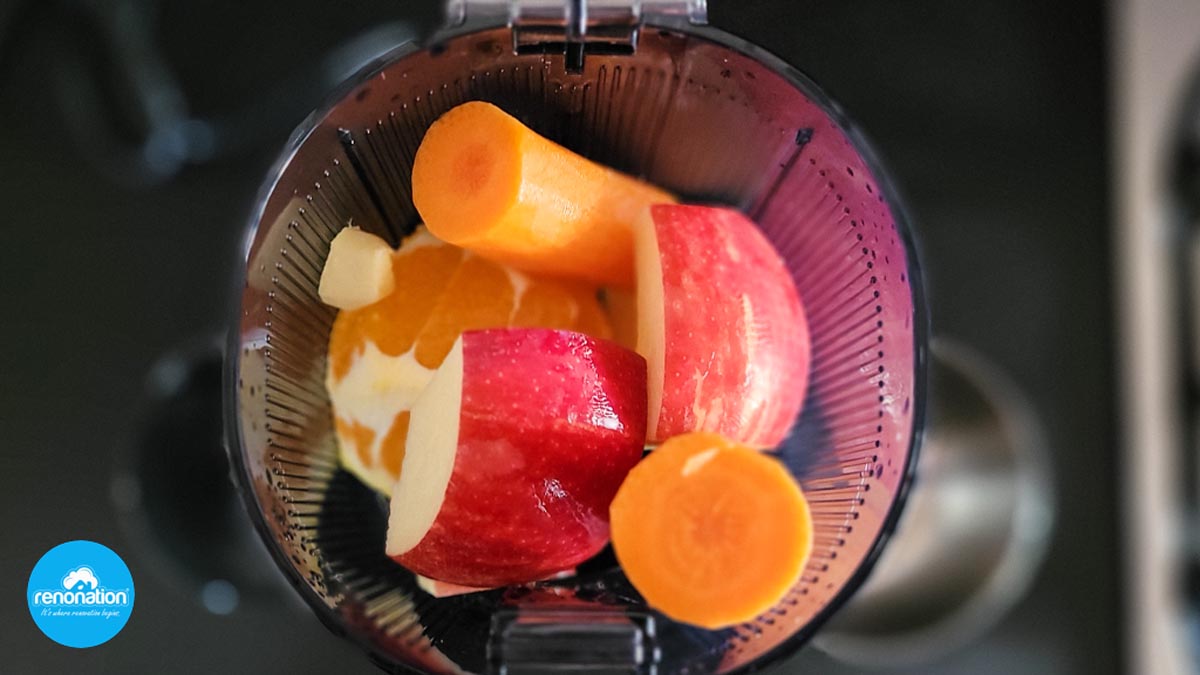 Hurom is a self-feeding slow juicer.
Don't overfill the chute, because that will get the juicer stuck. Switching over to the reverse control for a while will get things moving again. The Hurom also doesn't come with a container for pulp collection, so you'll have to use your own.
Tefal Slow Juicer: It was the only appliance that had us referring to the manual a couple of times before we could get it set up. The appliance came with several components that all needed to be fitted in the right way, but we did get the hang of it after a couple of tries.
Tefal Slow Juicer.
The controls are via a touch screen, and there are different programmes to use depending on what you are juicing e.g. hard fruits and vegetables or soft fruits and vegetables. They also come with a special setting for making ice creams and jams, making this slow juicer multipurpose—a nice bonus if you don't want just a one-trick pony.
Close up of the touchscreen panel on the Tefal machine.
Because we had a mix of soft and hard ingredients in our juice recipes, we had to switch different settings in the middle of the juicing process. The feeding tube is also relatively small, so we needed to chop up our fruits and vegetables in smaller pieces to shove them in.
Bosch Blender: This blender looks and works just like a conventional blender. It's pretty straightforward—just slot the plastic jar in place atop the motor for it to work. Controls are via the rotary switch in the middle, and there are three speed settings available: Min, Max and Pulse.
Bosch Blender
Controlling the Bosch blender is via a rotary dial.
After placing the ingredients in the jar, the blending process was hands-free. It also comes with a small measuring cup fitted on top of the lid. Because of the lid's solid suction, we had some difficulty removing the lid before and after blending.
Measuring cup that fits right atop the lid on the Bosch blender.
WMF Blender: Compared to the Bosch blender, the WMF blender is smaller, slimmer and works more like a personal blender rather than a conventional one. There are two blender containers so you can make twice the amount of smoothies.
WMF Blender.
Rather than pour your smoothies out into a separate cup or your own bottle, you can have your smoothie straight from the container or to go, by switching out the blade cap with a spout lid.
Manual operation for the WMF blender.
The downside to this convenient machine though is that the controls are manual—meaning you will need to be constantly pressing that single button while blending. Not great for multitasking in the kitchen.
Winner: Blenders
2. Speed + Noise
The slow juicers definitely triumph over the blenders when it comes to silent operation (check our video to hear the actual noise levels). Both Hurom and Tefal aren't loud enough to wake up the baby, compared to the blenders that drowned out the sounds coming out from our TV.
While the blenders were slightly faster with the smoothies than the juicers did with the juices, it also depended on whether you wanted a smoother blend, which would then take more time. So we surmise that there isn't a real time difference. Between the juicers, Tefal was slightly quicker than Hurom when it came to extracting the juice.
Winner: Juicers
3. Yield
Our smoothies and juices made from the appliances could easily fill a 270-ml glass, although as we mentioned above, we did use 100g more fruits and vegetables with the juicers to account for the extra 1/2 cup of coconut water in the blenders.
Winner: Tie
4. Taste Test
The juice produced by Hurom.
The juices made by Hurom and Tefal juicers were obviously a lot smoother with minimal pulp and foam compared with the blenders. The pulps collected, for the green juices in particular, were also really dry, which indicated that the machines were able to maximise the juice extraction.
Pulp collected from Tefal after making the green juice.
Tefal's resultant juice had a bit of an orange pulp (judgement depends on whether you like that or not), and the pulp collected from that juicing wasn't completely dry either. Unfortunately, we also didn't quite manage to taste the ginger kick in the classic juice made by the Tefal juicer.
Quite a bit of orange juice got thrown out in the Tefal juicer.
The smoothies by the blenders contained all the goodness of the fibres, so it made for a very filling meal. The Bosch blender made a surprisingly smooth green smoothie at the Max setting though. The smoothie made by the WMF was a tad chunkier than Bosch's.
The smoothie made from the Bosch blender, still pulpy!
Comparing a blender-made smoothie with a juicer-made juice. Notice the difference in density.
We also found that the smoothies, especially the green smoothies, separated at a quicker rate when left out on the countertops for a few minutes compared to the juices. This meant that the juices were able to stay fresher for longer.
Green smoothie and green juice, right after making them.
Green smoothie and green juice after sitting out on the countertop for more than 5 mins.
Winner: Juicers
5. Cleaning Up
Because of fewer components, the blenders were a lot easier to wash up. A quick run under the sink was all they needed. We also liked the extra space underneath the blades in the Bosch blender, which made it easier and safer to reach under to clean them.
Close-up of the blades for the Bosch blender.
With the slow juicers, removing the various parts for cleaning can be a bit difficult, especially if the parts are wounded up tight after juicing. There were also a lot of leftover pulp and fibres that needed to be removed from the machines, which made everything more tedious during clean-up. To help with this, the slow juicers come with small toothbrush-like brushes that will help you reach into all the nooks and crannies.
Lots of fibres and pulp get left in the sink when washing up the slow juicers.
While Tefal came with more components, they were just marginally easier than Hurom's to take apart and wash. Save for the main body, we cleaned all the components under running water in the sink. Hurom's components were a bit more difficult to dismantle after juicing, especially with their multi-screw.
Winner: Blenders
Conclusion
Blender or juicer?
Buying a blender or juicer primarily depends on whether you want to consume all the fibres from fruits and vegetables. If you want something more substantial and stuffed with all the good things for digestive health, get a blender for a smoothie. But if you prefer something smoother and easier to down quickly but still packed with the necessary nutrients, get a juicer.
With a blender, you can also add in other ingredients like nut butters, yoghurts and protein powders, which you can't do with a juicer. If your recipes often include these extra ingredients, consider the blender.
As a secondary consideration, think also about how much time you have to prep and clean up every time you use the appliance. If you are also planning on using it once a week, then a juicer would be fine. But if it's an everyday affair, then maybe a blender would be easier.
Juicers have more components that need washing after using, and most will require you to cut down the fruits and vegetables into smaller pieces to feed in the chutes. With blenders, everything can go inside as long as they fit in the jar, and their limited components mean washing is a breeze.
Everything can go inside the blender.
Finally, pricing considerations. In general, cheaper blenders are easier to find in Singapore. And they offer a bigger bang for your buck, seeing as they are multipurpose machines. But slow juicers are becoming increasingly more affordable. The Tefal slow juicer we tested for instance is priced very affordably, and works almost similar to the more premium Hurom, although it lacks slightly in the finesse of the design. But its ability to make more than just juices may make it a more useful appliance to have around the home.
Watch the juicers and blenders in action:
Meet Interior Designers. Get Quotes.
Get in touch with our listed renovation companies. They will provide you with a free non-obligatory estimate for any of the Renovation Packages included in their services.