5 Incredibly Creative Walk-up Apartments in Singapore You Wouldn't Mind Working Your Leg Muscles For
Walk-up apartments are a pretty special type of property in Singapore. So named because they are apartments in short buildings without any lifts, they are usually located in quaint old neighbourhoods that hipsters love. For some, they offer a sense of nostalgia for the good old kampong days. For others who lament the shoebox sizes of newer flats, these walk-up apartments, with their large square footages, are a breath of fresh air. With their unique layouts, walk-up apartments can be a wealth of inspiration. We checked out five of the very best, ranging from a functional, wood-clad family home to a hip, industrial style space with an open kitchen that wouldn't look out of place in a bar.
1. An open one-bedroom apartment for a couple and their many cats
The original bedrooms and most of the walls were removed to create a spacious, one-bedroom apartment that has plenty of light coming in and lots of free, open space for the couple's cats to explore.
One of the highlights of this home is the open kitchen that was designed with a large granite-topped island. It also functions as dining/entertaining area as well as a workspace. This multifunctional zone sits alongside the rest of the communal areas, including the reading nook at the end that can be converted easily into a guest room whenever there are overnight guests.
Squirrelled away at the corner of the apartment behind a pivoting mesh door is the only bedroom. Behind the door, the sight of an open wardrobe and open bathroom greets you before you get to the bedroom.
Design:
UNO Interior
Location: Binjai Park
Get your renovation quotations here.

2. Vintage vibes and industrial touches in this walk-up apartment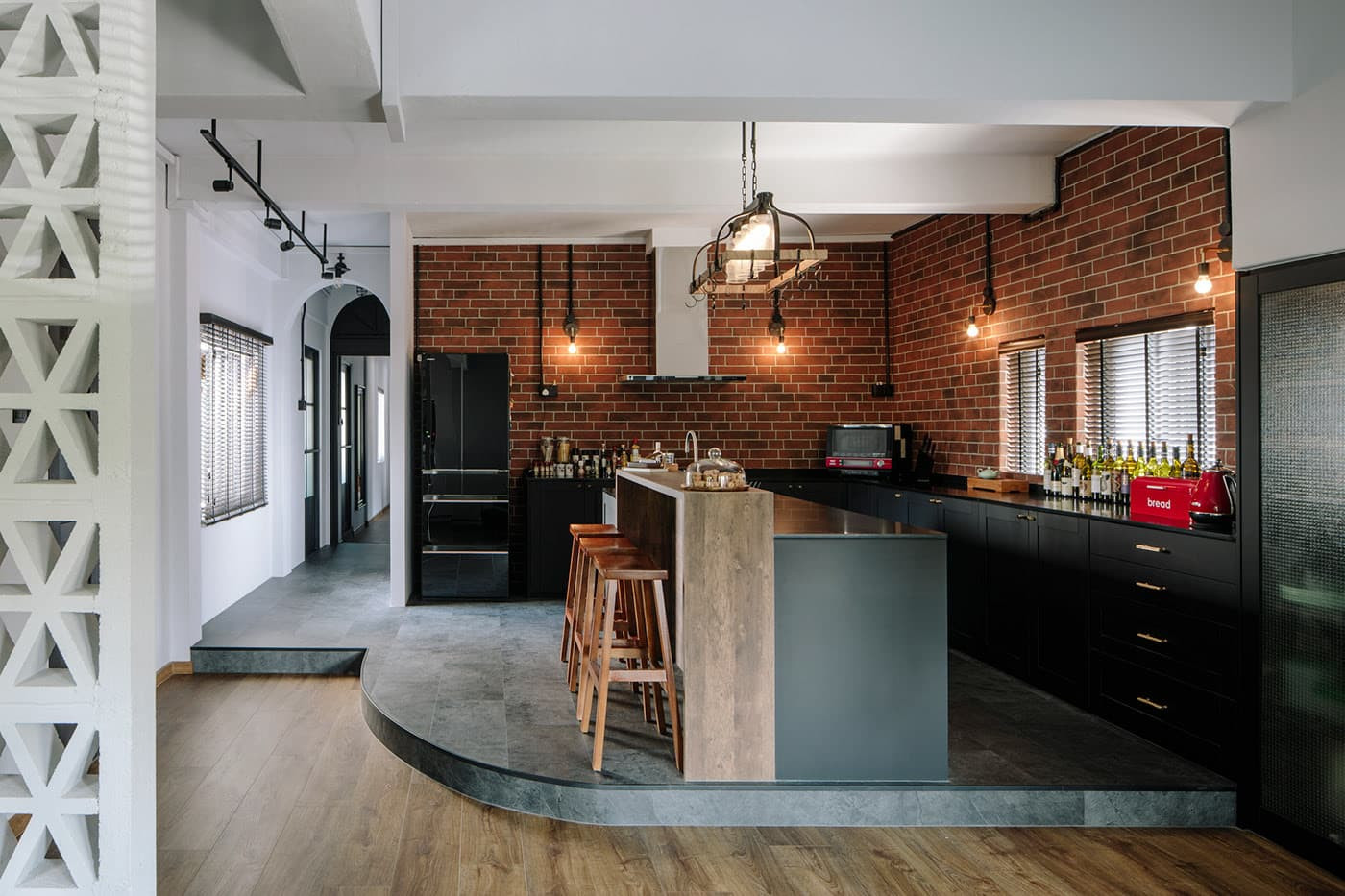 One of the very first things that catch your eye in this walk-up apartment is the open kitchen that looks right at home in any bar. The open space features an eye-catching brick backsplash, industrial lighting and a rustic woodgrain bar table that connects with the kitchen prep counter.
The brickwork continues into the dining room, where ventilation blocks provide privacy from the entrance of the home. A nod to local heritage, they allow ventilation and light to flow into this area. A flashy neon sign from the family den peeks through the black-framed glass doors, drawing semblance to an actual bar.
The bathroom is yet another sight to behold with retro glass blocks offering an additional heritage touch while allowing daylight to permeate this private space. Textured dark green tiles line the walls, in accordance with the dark palette seen in the rest of this walk-up apartment. [gallery columns="2" link="none" size="full" ids="155065,155066"]
Design:
Three-D Conceptwerke
Location: Seng Poh Road
Get your renovation quotations here.
3. It's old school cool in this heritage walk-up apartment
Much of the structures and layout in this home were retained, in order to preserve the original feel of the space. Some extra features such as the vents above the study room were replicated to create visual consistency. The homeowner's vintage pieces and mid-century style furnishings sit in a clean backdrop, with half-painted green walls adding a pop of colour.
One major change to the layout though was done to the walls surrounding the original kitchen. They were hacked away to bring in more light to the cooking space. Kitted out with modern comforts, it is clad in retro mosaic floor tiles and a marble grain island to lend the feel of an old-school kopitiam.
As the homeowner doesn't watch TV, the living room was actually set up so that it centres on conversations. This lack of technology further contributes to the old-school feel of the space. Design:
Free Space Intent
Location: Joo Chiat
Get your renovation quotations here.
4. An understated bachelorette pad with raw finishes and quirky elements
Like the first walk-up apartment we featured, most of the walls were removed in this one. What remains is a pared-back, airy sanctuary that has clearly defined spaces: a walk-in closet, an open kitchen, a dining/work zone, a master bedroom and a cement screed bathroom.
Concrete surfaces, pale wood surfaces and pegboard walls are decked out throughout the space. The utilitarian style provides the perfect setting for the homeowner's collection of curios. The pegboard walls in particular offer flexibility in terms of display and storage so there is never a stagnant look.
One of the most noteworthy areas of the home is the walk-in closet, which feels and looks like a fashion boutique. Ceiling-mounted rails provide storage for clothes while pegboards are the catchall for the many fashion accessories.
Design: Obllique Location: East Coast
Get your renovation quotations here.

5. A plywood-clad family home that focuses on function
[gallery size="full" ids="154627,154628,154629"] [gallery columns="2" link="none" size="full" ids="154630,98195"] This family home features a ton of premium grade plywood, which allows for a series of interesting carpentry designs while lending a functional, minimalist look to this space.
[gallery columns="2" link="none" size="full" ids="98172,98171"]
Adjacent to the living room is a "house within the house", which gathers the bedrooms and the study together behind birch plywood modules that double up as storage and display platforms. Louvers, controlled by a wooden gear system, were incorporated to regulate light and ventilation in and out of the spaces.
img
In contrast with the pale wood surfaces, utilitarian mosaic blue tiles cover the common bathroom as well as the master en-suite on the third floor. The en-suite was divided into three different spaces, with the vanity area located next to the entrance into the roof terrace. [gallery columns="2" link="none" size="full" ids="98174,98180"]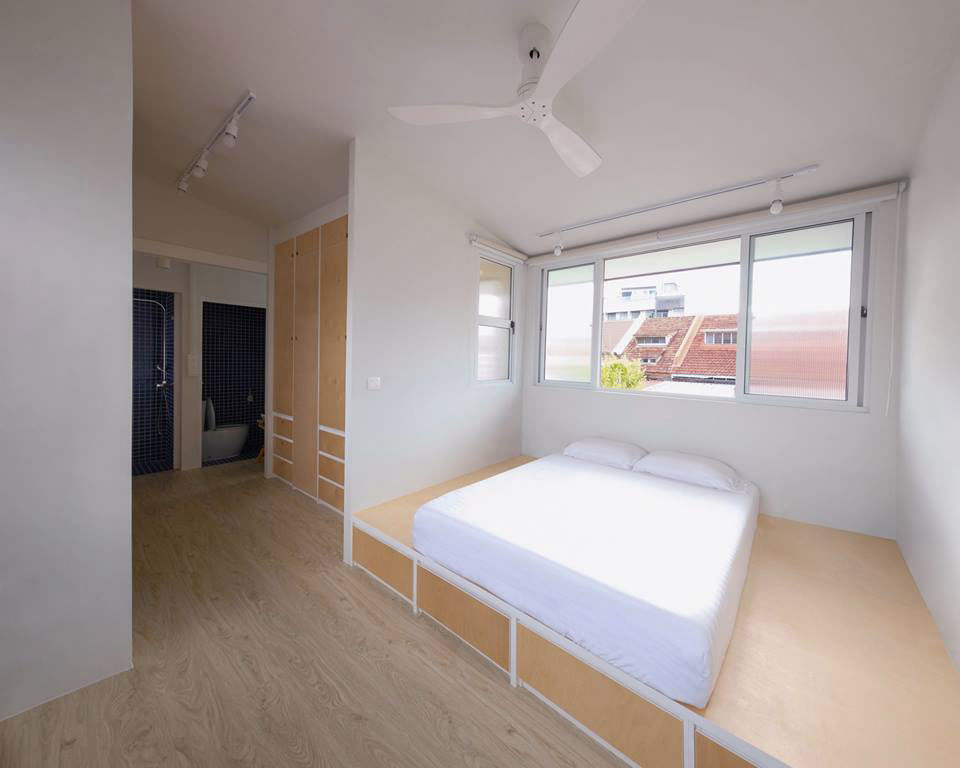 Design:
Produce
Location: Sing Avenue
Get your renovation quotations here.

Meet Interior Designers. Get Quotes.
Get in touch with our listed renovation companies. They will provide you with a free non-obligatory estimate for any of the Renovation Packages included in their services.