Aug 2022 BTO: Unit Analysis for Woodlands South Plains
If we are talking about accessibility to the MRT, Woodlands South Plains is one of the more convenient ones among the BTOs launched in Aug 2022. One of the entrances for Woodlands South MRT on the Thomson-East Coast Line is located right within the development, so it's truly doorstep convenience. In our analysis, we check out what else is in store for this project and see the best units to go for.
Overview
Bounded by Woodlands Ave 1 and Woodlands Drive 17

No
6

ESTIMATED COMPLETION DATE

2-room (Type 1): $98K to $124K
2-room (Type 2): $122K to $154K
3-room: $188K to $$228K
4-room: $303K to $363K

Woodlands South MRT station on the Thomson-East Coast Line

PRIMARY SCHOOLS WITHIN A 1-KM RADIUS*
*DISTANCE BASED ON APPROXIMATION, MAY DIFFER DEPENDING ON BLOCK

• Innova Primary School
• Si Ling Primary School
• Woodgrove Primary School
• Woodlands Primary School
• Woodlands Ring Primary School

EXISTING AND FUTURE AMENITIES WITHIN 15- MIN WALKING DISTANCE

• Vista Point (~11-min walk), a neighbourhood centre with a Giant supermarket and a Kopitiam food court
• Koufu HQ Food Court (~8-min walk)
• Fairprice supermarket at Champions Court BTO (~9-min walk)
• Sheng Siong supermarket at 573 Woodlands Drive (~9-min walk)
• Woodlands Health Campus
• A potential future shopping mall within Woodlands South MRT similar to Stellar @ TE2 at Woodlands MRT station?
The site
We visited the site on a weekday evening and found the area to be moderately busy. Vehicular traffic isn't too heavy and there are only two buses traversing the area, but we expect it to be busier during peak hours and once the Woodlands Health Campus is completed. Because the BTO site's next to an MRT exit/entrance, we also notice that footfall is pretty high there.
MRT entrance to Woodlands South MRT on the Thomson-East Coast Line.
Traffic along Woodlands Drive 16.
Traffic situation along Woodlands Ave 1.
The immediate vicinity also sees a couple of secondary schools, Woodgrove Secondary School and Christ Church Secondary School, and there's also an industrial site further along Woodlands South Plains and along Woodlands Ave 12 so it's very likely you will see quite a bit of a morning rush hour.
The Woodlands Health Campus (encompassing a community hospital, clinics and long-term care facilities) located opposite the site is still under construction. It will be progressively opened from 2023 onwards. An online source states it's going to be around 8 storeys, so if you are getting a unit facing it, you will want to go for a higher floor for better views.
Still under construction.
On the URA map, there's a reserve site nearby. According to the maps supplied by HDB, it will house a high-rise development, so no unblocked views for units facing there either.
There are also two adjacent religious buildings. There's a mosque within the site as well as a church just next to the BTO within Christ Church Secondary School. Do note that on certain days and times when religious activities are taking place, the site will likely get busier with heavier traffic.
Finally, we also noticed on the maps that Woodlands South Plains is located near the Sembawang Air Base. While we didn't hear any noise during our time there, you may be subjected to some aircraft noise from time to time.
Unit Analysis
No afternoon sun
How the afternoon sun moves in Woodlands South Plains.
The afternoon sun comes in two different directions in Singapore. From April to September, it comes from the northwest direction while from October to March, it comes from the southwest direction. You'll want to avoid units that face these two directions if you want a cooler unit. These stacks are the stacks that manage to avoid the afternoon sun, whether by the way the unit is positioned or thanks to blocking from a neighbouring stack:
Colour code:
Pink = 2-room
Green = 3-room
Yellow = 4-room
590A: 116
590B: 136, 138
590C: 142
591B: 174, 176, 178, 180, 182
592A: 194
Pro Tip: You don't necessarily have to avoid the stacks that are not listed above. They may still get some shade from neighbouring structures e.g. mosque, car park, other blocks, etc. It all depends on the floor of the unit you pick and whether it will be able to be blocked by those adjacent buildings.
Privacy
When choosing units with privacy, opt for corner units that are away from the lifts and rubbish chutes, as these areas tend to have higher footfall.
590A: 112, 114
590B: 126, 134
590C: 140, 146
591A: 164*
591B: 182
592A: 198, 208*, 212
*These stacks are next to link bridges. Do avoid the unit on the floor where the link bridge is connected with the stack if you want privacy.
Peace and quiet
If you are looking to get a quieter unit, avoid stacks that are nearby or facing the roads, the MRT station entrance within the site as well as areas where people tend to gather e.g. bus stops, pavilions, fitness stations, playgrounds, car park, drop-off points, mosque and child care centre.
590B: 132, 134
591A: 168, 170, 172
591B: 192
592A: 194, 196
Unblocked views
Because Woodlands South Plains is virtually surrounded by buildings (and potentially, the high-rise development in the reserve plot that is still empty at the moment), you don't get unblocked views that span across a wide area. But there are some units that are likely to get relatively unblocked views at least within the most immediate vicinity.
These include the following:
Note: These are our best estimations and should only be taken as a reference when selecting your unit.
Stacks that face Woodgrove Secondary School (go for units above the 6th floor at least): 104, 106, 108, 110, 112, 114

Stacks that face the upcoming Woodlands Health Campus (go for units above the 9th floor at least): 184, 186, 188, 190, 198, 200, 202, 204, 206, 208
Stacks that face Christ Church Secondary School (go for units above the 6th floor at least): 210
Stacks that face the multi-storey car park (go for units above the 8th floor at least): 174, 176, 178, 180, 182

Stacks that face the mosque (go for units above the 6th floor at least): 148
Other considerations:
If you rely on taking the MRT quite a bit, getting a unit at Block 592A will be useful since it's the block that is closest to the entrance.
Floor Plans
2-room
The 2-room floor plans are pretty standard. Type 1 is the smaller of the two types at 38 sqm, while Type 2 has a floor area of 48 sqm. Type 2 units have a small nook next to the bedroom, which you can use for a dining area, home office or store room. You can even expand the bedroom to accommodate a walk-in wardrobe. Change the entrance of your bathroom to face the bedroom and flank the sides with your closet. The result is a luxurious full-sized en-suite like so:
Design: Absolook Interior Design
3-room
For the 3-room units, the bomb shelter's located near the entrance of the home, so it doesn't eat into your living space, which is good. The layout's also a big plus for those who are considering combining the bedrooms into one since the wall between isn't a structural one and can be hacked away. Plus, they are located in a clean linear line, so now awkward nooks even after removing the wall. The kitchen in the 3-room units is pretty long. You can do up a wet-and-dry kitchen design as suggested by HDB, or go for a semi-open design and include a glass window stretch that will give you a sense of openness but still keep the fumes and grease contained:
Design: MET Interior
4-room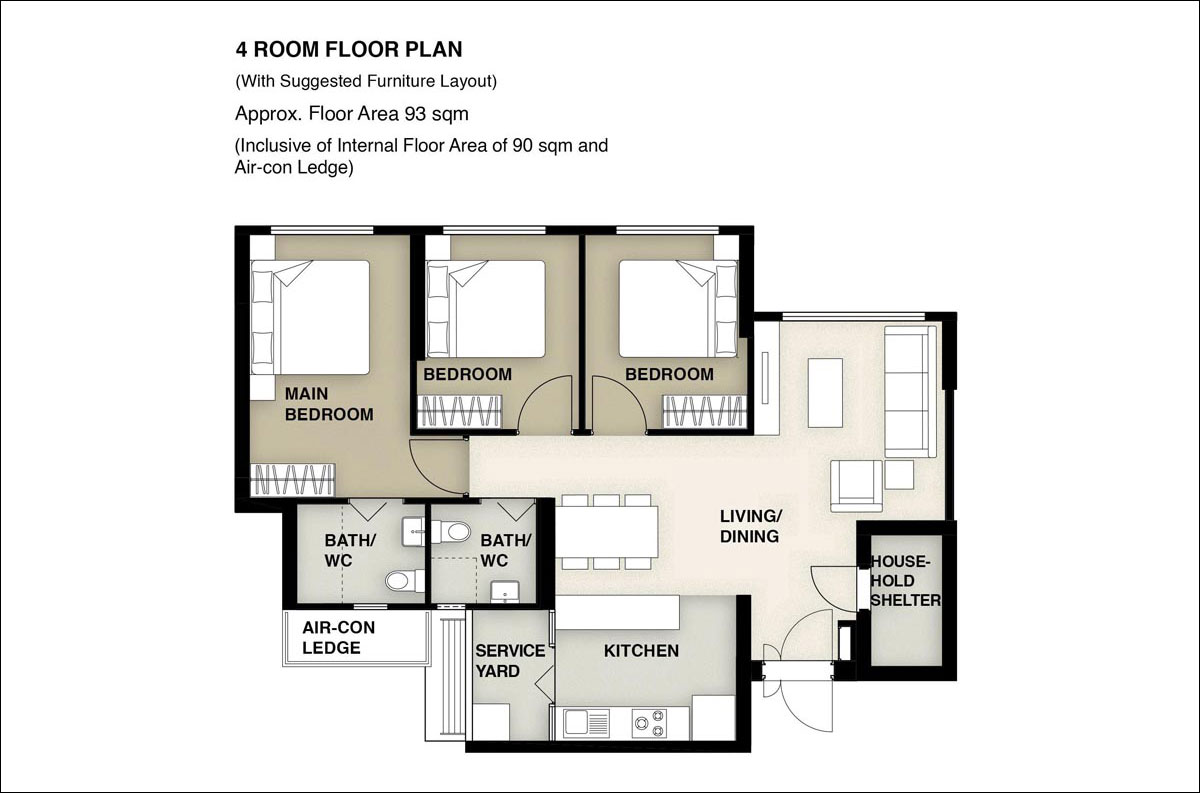 Like the 3-room units, the bomb shelter for the 4-room units is situated near the entrance of the home. This gives you a bit of room to manoeuvre things around the kitchen/dining area if you choose to. For those who don't need the extra full-fledged bedroom, we like the idea of expanding the kitchen space by removing the wall to the first common bedroom (the one facing the kitchen) and placing the refrigerator and pantry there. This frees up the rest of the space for a large dining table as well as a substantial kitchen to move around.
Design: Authors Interior & Styling
Meet Interior Designers. Get Quotes.
Get in touch with our listed renovation companies. They will provide you with a free non-obligatory estimate for any of the Renovation Packages included in their services.